Congressman Charles Gonzalez makes surprise visit to UTSA foster-care workshop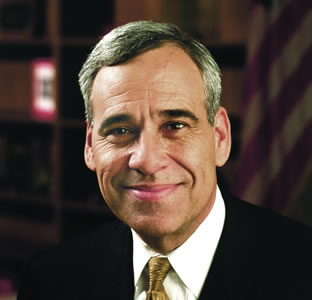 Share this Story
(May 26, 2011)--Local foster youths had a welcome surprise recently from U.S. Congressman Charles Gonzalez at the "Access Your Future" workshop hosted by the UTSA Child and Adolescent Policy Research Institute (CAPRI), housed at the university's Downtown Campus.
Gonzalez, who was at the campus for another event, heard about "Access Your Future" and decided to take time out to visit the teens in attendance. He joined UTSA President Ricardo Romo, who was the scheduled speaker for the event.
Gonzalez emphasized to the youths that there were many people supporting them, including the government, which provides various resources to help pay for a college education. But, he stressed, it is up to each person to take the initiative and take advantage of the opportunities.
"We were very pleased that Congressman Gonzalez took time from his very busy schedule to meet with the youth, their foster parents and caseworkers," said Harriett Romo, UTSA professor of sociology and director of the UTSA Mexico Center and Bank of America Child and Adolescent Policy Research Institute (CAPRI). "It was a great way to launch the CAPRI grant from the U.S. Department of Housing and Urban Development that provides funds for the ACCESS Center to help foster care youth be successful in higher education."
Approximately 50 foster-care youths attended the half-day workshop established to help students and their mentors with the college application process. The workshop featured presentations from UTSA departments concerning admissions, financial aid, advising, student activities and housing.
The workshop is part of planned activities presented by UTSA's Access Center, developed from the grant provided by the U.S. Dept. of Housing and Urban Development/Hispanic Serving Institutions Assisting Communities program.
According to the Casey Family Foundation's 2020 Vision for America's Children, 70 percent of foster youths indicate a desire to attend college, but only 35 percent get the opportunity and only 3 percent graduate. Foster-care alumni also are three times more likely to have household incomes at or below the poverty level, twice as likely to live without health insurance and more than one in five become homeless. The purpose of the Access Center is to encourage foster care youths to consider going to college in an effort to change these statistics for the better.
"This workshop illustrated the importance of institutional support as these students enroll in higher education," said Harriett Romo. "The UTSA community understands the importance of reaching out to foster-care youth and letting them know that support is here and ready for them when they arrive."
Angel's Crossing, Baptist Children's Family Services, Casey Family Services, Child Advocates of San Antonio and Project Quest are collaborating agencies under the HUD grant and cosponsored the May 14 workshop.
For more information about the workshop and Access Center plans, contact Sophia Ortiz, assistant director of the Bank of America Child and Adolescent Policy Research Institute and Mexico Center, at 210-458-2692.