Samira Lopez, Nicole Morales awarded laptops in Academic Development Program contest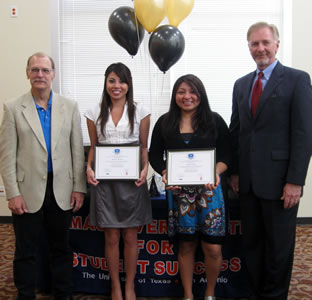 Share this Story
(May 26, 2011)--Samira Lopez, who graduated this month with a B.A. in Mexican American studies, and fellow graduate Nicole Morales, who received a B.A. in public relations, are the winners of the spring 2011 UTSA Office of Information Technology Laptop Award. Winners are selected from graduates of the Academic Development Program (ADP) in the UTSA Tomas Rivera Center for Student Success. Both students received a Dell laptop computer and an award certificate.
A committee of ADP advisers selects the award recipients. A search of ADP graduation candidates establishes a pool of potential awardees; the committee narrows the pool with a 2.90 G.P.A. cutoff. Qualifying students are asked to submit an application detailing their academic and work experience, and showcasing their UTSA involvement. Each candidate submits an essay describing what it means to him or her to graduate from UTSA.
At UTSA, Lopez was active in the Hispanic Student Association and the Resident Hall Association, from which she received the Resident Assistant of the Year Award in 2009. She also was a member of Kappa Delta Chi sorority and the Orientation Leader Association. Last year, she was the first recipient of the UTSA Latino Leadership Award and was honored at the University Life Awards as Greek Woman of the Year. She plans to give a year of service through a nonprofit agency working with at-risk youths, then earn a master's in higher education with a concentration in student affairs in hopes of working in a university setting.
Lopez noted in her essay, "I had the opportunity to have been employed with the Office of Orientation and Family Programs for four years, where I played a role in implementing and developing programs for students and family members at UTSA. I worked with first-time students admitted through the Academic Development Program. I made it a goal to share my experiences with them to show them that this program really is successful. The one thing that I stressed to the students was that they are regular UTSA students. The only difference is that they have extra support."
Morales is a lifetime member of Omicron Delta Kappa Leadership Honor Society and received the Exemplary Member Award from the organization. She also is a member of Rho Lambda National Leadership Recognition Society for Sorority Women. In her spare time, she started a social and service sorority on campus, Delta Xi Nu Multicultural Society, where she is a lifetime member.
While at UTSA, Morales was an active member of the Hispanic Student Association, volunteered at the Kids Sports Network and was an intern for the San Antonio Stock Show and Rodeo. Armed with a Bachelor of Arts degree in public relations with a concentration in business administration, she hopes to find employment in the sports industry.
"We had a large pool of eligible candidates this semester with majors ranging from business to architecture and everything in between," said Cynthia Rodriguez, ADP director. "Although G.P.A. is a factor in selecting our award recipients, it is never the sole factor. Instead, the committee looks at overall accomplishments and the desire for success. We commend the students for their outstanding achievements, and we hope they continue to have a positive impact on absolutely everything they do."
The awards were presented by Lee Gildon, chief operations officer of the UTSA Office of Information Technology, and John Moder, executive director of development for the Hispanic Association of Colleges and Universities (HACU). The laptop program was co-founded by UTSA and HACU, but now is sponsored by the UTSA Office of Information Technology and the UTSA Tomas Rivera Center for Student Success.
At least one winner is selected each fall and spring semester from ADP students who apply for the award. ADP students are admitted to UTSA on a provisional basis; laptop awardees are selected from participants in the program who have developed their academic standing and will graduate with a minimum 2.50 G.P.A.