UTSA McNair Scholars present at national conference, prepare for summer research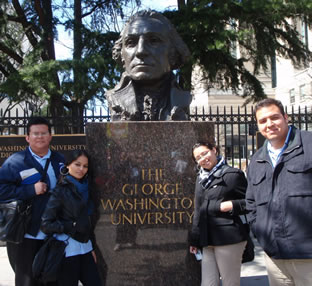 Share this Story
(May 24, 2011)--Albert Castillo, Aruba Hussain, Brettany Johnson and Rafael Rodriguez presented their research this semester at the 12th annual University of Maryland College Park National Conference for McNair Scholars and Undergraduate Research in Washington, D.C.
The national conference provided a wealth of activities, workshops and presentations. Speakers included Kwame Dawes, Emmy-winning Jamaican poet and writer, and Donald Asher, one of the nation's foremost authorities on the graduate admissions process. Deans from the nation's top universities led panel sessions, and conference participants were invited to attend an on-site graduate school fair with more than 40 universities represented.
While in Washington, the UTSA scholars visited Georgetown University and George Washington University, both of which offer McNair Graduate Fellowships to former McNair Scholars participants. The UTSA students met with faculty in their respective concentrations, spoke with doctoral students and toured each university. At the conference, UTSA scholars presented research completed during the 2010 McNair Summer Research Institute at UTSA.
Albert Castillo: "Humor, Social Support and Life Satisfaction" -- mentor Mary McNaughton-Cassill, associate professor of psychology
Aruba Hussain: "Factors in Gender Differences in the Emotion of Guilt" -- mentor Ann Eisenberg, associate professor of psychology and associate dean of the Honors College
Brettany Johnson: "The Effect of Study Modality on False Recall: A Comparison of Written and Spoken Recall" -- mentor Rebekah Smith, assistant professor of psychology
Rafael Rodriguez: "Studying the Earth's Atmosphere" -- mentor Greg Wene, professor of mathematics
Additionally, Hussain and Rodriguez, along with McNair Scholar Darrel Phillips will spend the summer in unique learning experiences.
Aruba Hussain
, a senior majoring in psychology, was accepted into the Yale University Summer Undergraduate Research Fellowship program (SURF). The eight-week program beginning in June acquaints students with the rigors of graduate study for the field in addition to offering guidance for Ph.D. level training and career building. Students are immersed in an academic, professional setting, are guided by faculty mentors, take part in research, and attend a series of workshops and panel discussions. Students are housed on the Yale campus and all meals and transportation are provided. Upon completion, Hussain, will be granted a $3,000 stipend.
Darrel Phillips
, a senior psychology major, and
Raphael Rodriguez
, a senior mathematics major, will attend the University of North Texas Summer Research Seminar June 5-10. Phillips and Rodriguez will take part in research and expand their knowledge in research methods, ethics and other related topics.
------------------------------
The McNair Scholars program was named in honor of Ronald E. McNair, an African-American engineer, scientist and astronaut who died in the 1986 Challenger shuttle explosion. Through his legacy, students from groups traditionally underrepresented in higher education receive academic opportunities that will enable future enrollment in doctoral studies or other scholarly activities.
The McNair Scholars program is a government-sponsored, research-intensive program designed to help first-generation and underrepresented undergraduate students reach their highest goals of attaining a doctorate. The program offers educational support, workshops, assistance with applications and funding searches, and undergraduate research experience under the instruction of a faculty mentor. Additionally, the program strongly encourages students to attend conferences and present their research.
The McNair program is one of seven programs offered through UTSA's TRIO programs, part of the Office of P-20 Initiatives.