Visa honors UTSA's NCCDC team with Leadership in Security Award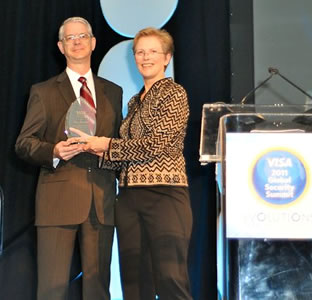 Share this Story
(May 24, 2011)--The National Collegiate Cyber Defense Competition (NCCDC) team, a group of cyber security professionals at The University of Texas at San Antonio Center for Infrastructure Assurance and Security (CIAS), a part of the UTSA Institute for Cyber Security, has been honored by Visa Inc. (NYSE: V) with the company's inaugural Leadership in Security Award for its role in promoting computer security curricula and encouraging students to study cyber security.
Gregory White, CIAS director, accepted the award at Visa's fourth Global Security Summit, on April 27 in Washington, D.C., accompanied by Alexei Czeskis, team captain of the 2011 NCCDC champions from the University of Washington.
The NCCDC is the first practical cyber security competition designed to test how well college students operate and manage a network infrastructure, similar to that found in the commercial sector. At the start of competition, each team inherits an operational network for a fictional business that includes email, websites, data files and users.
Competitors are given minimal information about the network, its security levels and its software a few minutes before a live Red Team begins to probe their company. Teams earn points by maintaining required services and successfully completing business tasks affecting the company's network. They lose points when the Red Team successfully penetrates their network.
"We established the National Collegiate Cyber Defense Competition as a way to encourage computer-savvy college students to pursue cyber security careers," said Dwayne Williams, NCCDC director. Five teams competed at the first national competition in 2005. Since that time, the competitive program has grown to include participants from more than 100 colleges and universities across the country.
"Visa is pleased to recognize the NCCDC for its innovative programs which will pay dividends in fraud prevention efforts for years to come," said Ellen Richey, chief enterprise risk officer of Visa Inc. "By inspiring students to enter the cyber security field, the NCCDC is helping organizations recruit from an experienced pool of graduates that didn't previously exist."
The CIAS was established at UTSA in June 2001 as part of the university's creation of a cyber security program. In 2002, UTSA was recognized by the National Security Agency as a leader in the field of infrastructure assurance and security when it was designated a Center of Academic Excellence in Information Assurance Education.
In addition to administering the NCCDC, UTSA's CIAS offers cyber security preparedness exercises and training to governments and municipalities across the nation. The programs, formalized in 2004 with funding from the Department of Homeland Security, test and improve an organizations communication, incident response, disaster recovery, business continuity and security awareness for the purpose of preventing, detecting and responding to large-scale cyber attacks.