UTSA, area law enforcement agencies, community honor fallen police officers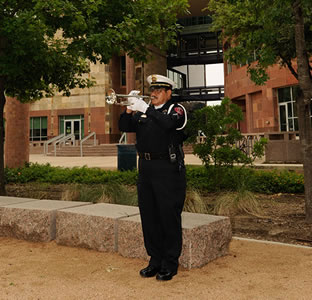 Share this Story
(May 25, 2011)--Representatives of UTSA, area law enforcement agencies and the San Antonio community gathered May 20 to honor law enforcement officers who died last year in the line of duty. As part of National Peace Officers Memorial Day, the observance was hosted by the UTSA Police Department at Bill Miller Plaza on the UTSA Downtown Campus.
The ceremony included a reading of the day's proclamation by Kerry Kennedy, UTSA vice president for business affairs, a moving address by Michael Heidingsfield, director of police for the University of Texas System, a wreath laying and the playing of "Taps."
As each name was recited of officers from across Texas who died in the line of duty, a single long-stem white rose was placed in a vase, signifying each officer's last roll call.
National Peace Officers Memorial Day has a long history. It began in 1962 by presidential proclamation signed by President John F. Kennedy. Kennedy also designated the week National Police Week. Since that time, police departments across the nation have observed the week in different ways including open houses, SWAT demonstrations and memorial services.
Every 53 hours, a law enforcement officer gives up his or her life in the line of duty. In 2010, Texas lost 19 law enforcement officers. Since 1963, 31 university police officers nationwide have died in the line of duty.