UTSA ring ceremony: Symbol indicating path to graduation is near its end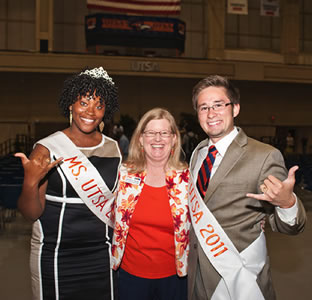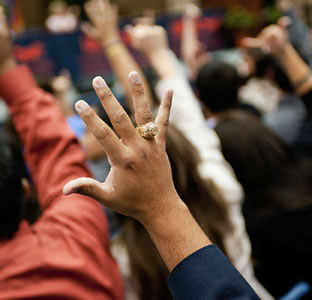 Share this Story
(May 6, 2011)--As another academic year wraps up, many UTSA students are preparing for the final leg in the road to graduation. At this point in a student's academic career, momentum becomes very important. The UTSA ring and the ring presentation ceremony inspire students to know the end is near and remind them just how far they have come.
More than 200 UTSA students received their rings at a May 2 ceremony in the Convocation Center on the Main Campus. Alumni, juniors and seniors who have completed 60 credit hours are eligible to participate in the ring ceremony. The ring can have many meanings to various students.
As students and parents enjoy the evening of celebration, Gage Paine, UTSA vice president for student affairs, gets a front row seat at the excitement. It's no secret the ring ceremony and presentation is one of her favorite events.
"As I hand out rings, I see the smiles and proud faces," said Paine. "They are so excited about what the ring symbolizes, and their families are just as proud of their accomplishments. It's really fun to watch."
Regardless of major, graduation is the one goal all students have in common. As UTSA continues to grow, so do the traditions of the university. The ring forms a symbol that connects students past, present and future.
The UTSA ring program is administered by the UTSA Office of Alumni Programs through the UTSA Bookstores.
For more information, call 210-458-4133 or visit the UTSA Alumni Programs website and select "Official UTSA Ring."