UTSA Graduation Initiative helps transfer student accomplish academic goal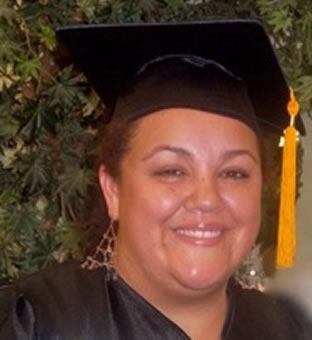 Share this Story
(June 17, 2011)--Michelle Duenas is a proud, recent graduate of The University of Texas at San Antonio, and rightly so. After 10 years, she has accomplished her goal and in May received a Bachelor of Science degree in biology -- and the UTSA Graduation Initiative had something to do with that.
"I came to UTSA as a transfer student in fall 2000. Then I stopped out in spring 2007, just two courses short of a degree," she said. "I had lost motivation and was not sure that this major was really for me."
During her stop-out period, a term used for students who withdraw temporarily from a university or college, Duenas worked in her family's floral business and gained a real-world perspective. Going back to college was always on her mind, but like so many people, she said she just got caught up in work and as a result pushed college to the backburner.
An answer came in fall 2009 when Duenas participated in the UTSA Graduation Initiative's Welcome Back program. Launched at that time, the program's mission is to help UTSA students who stopped out for one to seven years, then return to complete their degrees. The program utilizes a case-management approach with its 71 participants and offers financial assistance in the form of a graduation incentive grant for the first semester back.
"I received the Welcome Back invitation letter in 2009, and it just brought back the feeling that I had left something unfinished. I thought it would be a great opportunity to close a chapter in my life," Duenas said. "I returned with a different perspective and commitment level of responsibility. It felt good."
According to Duenas, the Welcome Back letter reminded her that people cared about her education and believed in her ability to obtain a degree. She said that such caring gave her the extra push to complete her goal.
"Increasing the number of students earning bachelor's degrees is critical to the long-term success and stability of UTSA, the state of Texas and the United States," said Kristi Meyer, director of the Graduation Initiative. "The initiative is committed to contributing to that success through programs like Welcome Back."
Meyer said the key to Welcome Back is that it pairs financial assistance with personalized and individualized assistance in overcoming barriers to graduation. Students such as Michelle are the way that the university, state and nation will meet their respective goals for increasing the number of Americans with college degrees.
"I am a redeemed quitter," Michelle exclaimed with a huge warm smile. "I'm ready for the next chapter in my life."
>> Read more about Welcome Back and other programs at the UTSA Graduation Initiative website.