UTSA LeaderShape Institute graduates define their visions for ideal world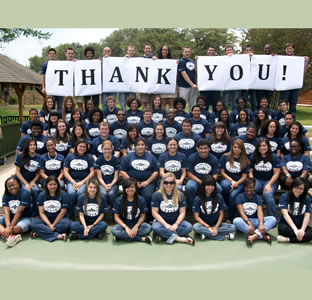 Share this Story
(June 1, 2011)--The UTSA Student Leadership Center recently hosted the first graduating class of the UTSA LeaderShape Institute, an intensive, energizing, six-day experience to help students become leaders.
The group of approximately 70 students spent six days at the John Newcombe Tennis Ranch in New Braunfels, Texas, to participate in lectures, activities and exercises focused on their personal values and the visions they have for an ideal world.
The institute helps participants explore not only what they want to do, but also who they want to be. Students who apply for the institute must be full time, have a UTSA G.P.A. of 2.5 or higher and are set to return to UTSA for the fall semester.
At the institute, students were asked to discover their individual visions and create an action blueprint for change. Throughout the event, students learned that leadership is not determined by the individual's status and does not require formal authority.
Guiding the students through the sessions were Family Cluster Facilitators, who are respected professionals and role models. The students did much of their vision work within the family clusters in groups of 12, which grew closer and became a source of support and encouragement.
The facilitators were Keri Shiplet, UTSA assistant director of Greek life; Joey Ramos, UTSA director of business student services; Zwisel Gandia, UTSA housing and residence life complex coordinator; Justin Grgurich, human resources manager for South Texas with Pepsi Beverages Co.; and Pesha Mabrie, UTSA housing and residence life complex coordinator.
A guest panel discussion was hosted by Gage Paine, UTSA vice president for student affairs, and featured Fernando Reyes, president and owner of Reyes Industries; Samuel Dawson, CEO and co-owner of Pape-Dawson Engineers Inc.; Ernest Bromley, chairman and CEO of Bromley Communications; Jelynne Burley, executive vice president and chief administrative officer of CPS Energy; Roy Schroer, assistant vice president of human resources for Union Pacific Corp.; and Rey Camacho, regional sales director for Pepsi Bottling Group.
"LeaderShape was an incredibly eye-opening experience," said student Bernadette Butra. "I have never been a part of a conference that was so mentally, emotionally, physically and psychologically challenging in terms of achieving my goals. It meant a great deal to be able to be exposed to a realization that, hey, I can change the world. All I need to do is plan it step-by-step."
"I will be bringing back everything I learned from LeaderShape but especially integrity," said student Diane Nwokey. "The whole week was kind of based off integrity and how it is so important."
"I enjoyed learning about all of the students and staff life stories," said Hassan Barzani. "There was also amazing encouragement given to us to bring back to UTSA and beyond. We all learned about the importance of communication and teamwork to a community like UTSA and San Antonio."
"My experience was eye-opening and very emotional," student Trishauna Hopkins said. "The bonds and relationships I've formed as a result of LeaderShape are lifelong and will never be forgotten. I'm grateful for the opportunity to experience it, and I plan on sharing what I've learned at UTSA and throughout the San Antonio community."
>> Learn more about programs and events at the UTSA Student Leadership Center website or go to University Center Room 1.002 on the Main Campus.