UTSA hosts 'Indians of North America' archaeology camps through Aug. 12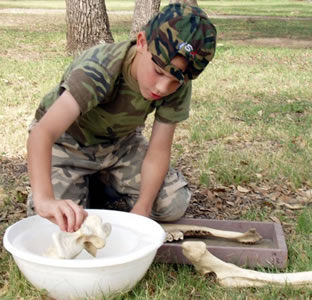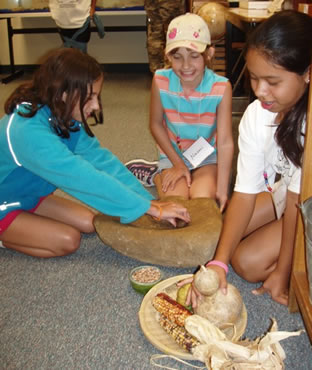 Share this Story
(June 22, 2011)--There are still a few openings in the weeklong Summer Archaeology Camps running through Aug. 12 on the UTSA Main Campus. Presented by the UTSA Center for Archaeological Research, the theme of this year's camps for children ages 7-12 is "Indians of North America." See the camp schedule below, along with enrollment information.
Young explorers will participate in mock digs and learn how archaeologists conduct excavations and process artifacts in the laboratory. They also will identify plants used by Native Americans on the ethnobotany trail, make crafts and play games from tribes from various regions of North America. Additional activities will include solving the puzzles of a "Mystery Cemetery" and throwing spears with an atlatl, a device used to throw spears which incorporated a technology which pre-dated the bow and arrow.
Archaeologists will direct the camps with the assistance of summer interns. Parents can join in the family fun by attending the last hour of each camp.
The Legacy: Hands on the Past outreach program is in its 16th year of serving the community in educational support. Legacy offers school presentations, laboratory tours, career day speakers and other services highlighting CAR's commitment to archaeological preservation and research.
>> The cost is $200 per camp, $175 for UTSA employees, and covers supplies, snacks and a t-shirt. Enrollment is limited to 18 participants per weekly camp. Find registration forms and camp details at the UTSA Center for Archaeological Research website.
For more information, contact Legacy staff at 210-458-4462 or email carlegacy@utsa.edu.
------------------------------
"Indians of North America" summer camp schedule
(Camps run 9 a.m.-4 p.m. each day.)
Camp 2: June 27-July 1
Camp 3: July 11-July 15
Camp 4: July 25-July 29
Camp 5: Aug. 8-Aug. 12