University Center Gallery 23 hosts 'Uncanny Familiarities' photo exhibit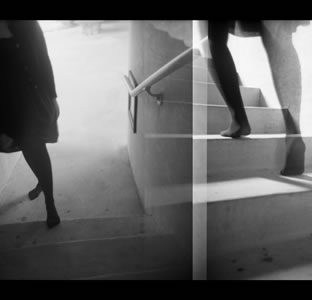 Share this Story
(June 2, 2011)--Gallery 23 at The University of Texas at San Antonio's University Center will host "Uncanny Familiarities," an exhibition of the photography of UTSA alumna Lupe Mendoza. Free and open to the public, the exhibit runs June 6-Aug. 12.
>> An opening reception with the artist is 5-6:30 p.m., Wednesday, June 8.
"Uncanny Familiarities" is a series of photos that explore how the mind recalls and reconstructs memories. The overlapping of non-specific, large, black-and-white images allows Mendoza to construct a narrative from multiple and unrelated experiences into a single linear format.
"I am most intrigued by the mind's inability to control how we consciously or subconsciously retain and recall past experience," said Mendoza. "The challenge of attempting to visualize the subconscious is the inspiration for this series."
The exhibit's two-by-five-foot photo sequences were created with a Holga camera, which allows for control in the overlap or extension of the distance between negatives. The pieces are a combination of a 120mm photographic process and digital imaging.
Mendoza was born in 1979 in El Paso, Texas. She received a Bachelor of Fine Arts degree in communication design from Texas State University in San Marcos in 2007. In 2010, she received a M.F.A. with a concentration in photography from The University of Texas at San Antonio. She received the Emerging Texas Artist Award from the Texas Arts and Crafts Educational Foundation (2006) and the Coveted Memorial Ralph Award from The Creative Summit. Mendoza is published in the "Graphis New Talent Annual 07/08" (2007). She currently teaches digital photography and digital art as an adjunct instructor at UTSA and Alamo Colleges.
Mendoza has exhibited at Julia C. Butridge Gallery in Austin; Uber Progressive (as part of Political Art Month) at Medien Kultur Haus Wels in Austria; and in San Antonio at the UTSA Art Gallery, UTSA Satellite Space, Stone Metal Press and at the San Antonio Art League and Museum.
"Gallery 23 is a unique exhibit space that will lend itself well to the format of my work," said Mendoza. "I am honored to have been selected for this opportunity and hope my work will inspire others to take interest in the arts and photography as they journey through reconstructed memory."
For more information, call 210-458-7827.
------------------------------
About Gallery 23
The goal of Gallery 23 is to serve a vital role in creating a vibrant campus community by offering cultural enrichment, enhancing diversity on campus and providing an educational opportunity to explore the arts. The gallery serves as a professional space to showcase student, staff, faculty, alumni and local artists' works. Gallery hours are 11 a.m.-7 p.m., Monday-Thursday, and 11 a.m.-5 p.m. Gallery 23 takes its name from the room number, University Center Room 1.02.23.