Longtime UTSA employee Pat Berlet dies June 10 in San Antonio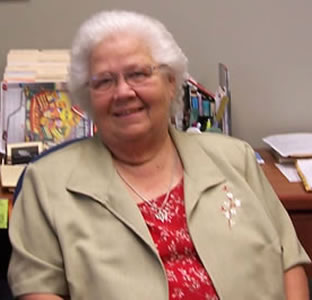 Share this Story
(June 13, 2011)--Pat Berlet, a UTSA employee for more than 30 years and a lifelong advocate for girls and young women, died Friday, June 10 in San Antonio at age 76. She worked locally and nationally with the Girl Scouts and especially loved gardening, traveling and spending time with her grandson.
One of the first employees in UTSA Student Health Services, she began her career at UTSA as a part-time nurse with a degree from the Baptist School of Nursing. She was coordinator and assistant director of Student Health Services before serving as director from 2003 until her retirement in January 2009. In her time at UTSA, she worked to establish and improve health services and health education classes.
Berlet was born March 1, 1935, in San Antonio to Lee Alexander and Zozie (Ginn) Slazer. She was preceded in death by her husband, Travis M. Berlet Jr., and brother, Joe Slazer. Surviving are her daughter, Luann Berlet; sons, Michael Lee Berlet and his wife, Missy, and James Keith Berlet; grandson, J.M. Berlet; sister, Norma Lee Dennis and husband LaVerne; brother, Dennis Slazer and wife, Ann; sister-in-law, Jackie Slazer; family member, Tom Schrader; pet, Cinnamon; and numerous nieces, nephews and other family members.
------------------------------
The family will receive friends from 5 to 9 p.m., Monday, June 13 at Sunset Funeral Chapel, 1701 Austin Highway, San Antonio, Texas, 78218, 210-828-2811. Funeral services will be at 3 p.m., Tuesday, June 14 in Sunset Funeral Home Chapel with a celebration of her life to follow at the Harlequin Theatre at Fort Sam Houston. Interment will be private.
In lieu of flowers, donations can be made to the Girl Scouts of Southwest Texas, 911 N. Coker Loop, San Antonio, Texas, 78216.