Prefreshman Engineering Program: Problem solving, engineering, logic and fun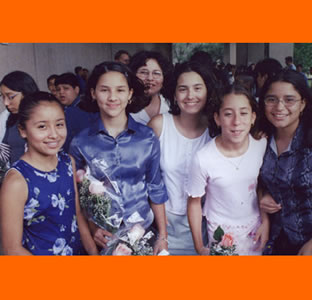 Share this Story
(June 13, 2011)--Today, the San Antonio Prefreshman Engineering Program (SA-PREP) welcomes 1,400 entering middle and high school students for the start of its seven-week summer program at UTSA. Founded at UTSA in 1979 by Manuel Berriozabal, UTSA professor of mathematics, SA-PREP has an impeccable record of success -- 99 percent of the students who complete one summer in the program go on to college.
Last year, three-fourths of the program's grads were members of minority groups, 53 percent were female and more than a third represented low-income families.
"The PREP program is not for the faint of heart," said Rudy Reyna, PREP director. "The program is academically intense. We provide students with hands-on experience in a variety of topics that are fundamental to careers in the STEM areas -- science, technology, engineering and mathematics. Through PREP, students are empowered to become lifelong learners and team players, problem solvers and decision makers."
The four academic levels of the program are presented over seven weeks through lectures, seminars and activities that allow students to learn and apply advanced STEM concepts. Among other topics, the curriculum includes mathematics, problem solving, engineering, physics, technical writing, water science, computer science, research and STEM career awareness. In addition to gaining a jumpstart on advanced topics in the hard sciences, PREP students have the opportunity to earn college scholarships and high school credit.
In San Antonio, PREP I will be offered at the UTSA Main and Downtown campuses, Northwest Vista College, Northeast Lakeview College, St. Philip's College and Palo Alto College. PREP II will be offered at the University of the Incarnate Word Dual Enrollment Center, San Antonio College and Our Lady of the Lake University. PREP III will be offered at St. Mary's University and PREP IV will be offered at the UTSA Main Campus. All programs run June 13-July 28.
Through the Texas Prefreshman Engineering Program (TexPREP), approximately 3,000 additional Texas youths will participate in the program across the state. TexPREP locations include Arlington, Austin, Bay City, Brownsville, Corpus Christi, Dallas, Edinburg, Fort Worth, Harlingen, Houston, Laredo, Lubbock, McAllen, Odessa and Victoria.
Learn more at the PREP website or call the San Antonio PREP office at 210-458-2060.