Jessica Inocencio-Gray is fourth Louise and Michael Beldon doctoral scholar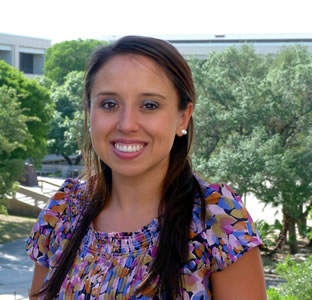 Share this Story
(July 28, 2011)--Jessica Inocencio-Gray, a first-generation college student from Lytle, Texas, was named the fourth recipient of the Louise and Michael Beldon Doctoral Scholarship.
Michael Beldon and his wife, Louise Beldon, a UT Austin graduate, are longtime San Antonio residents, serving on many boards and volunteering for community causes. They created the merit-based scholarship in 2007, which provides $5,000 to a Texas resident entering a UTSA doctoral program. Michael is chairman and CEO of Beldon Enterprises, a third-generation, family-owned commercial roofing business.
Inocencio-Gray is a first-generation college student and the first member of her family to pursue a doctoral degree. She grew up 30 minutes southwest of San Antonio in Lytle, Texas. Although her parents did not attend college, they emphasized to their children the importance of a receiving a college education. Jessica and each of her siblings have received college degrees, two from UTSA.
Inocencio-Gray earned a Bachelor of Arts degree in art and archaeology from Princeton University (2005). In June 2005, she traveled to South Africa to attend Nelson Mandela Metropolitan University, where she received a Master of Arts in Media Studies degree (2007). In 2010, she graduated with her second master's, and MBA from The University of Texas at San Antonio.
She looks forward to starting her UTSA doctoral program this fall to earn a degree in business administration with an emphasis in organizational management. Inocencio-Gray's research interests include diversity and cross-cultural issues in organizations, performance of first-generation college graduates in the workplace, and gender and racial diversity among the corporate elite.
With the goal is to be a university professor and researcher, she aspires to emulate UTSA professors Including Judith Vogt, Mark Phillips and Kenneth Allard, whom she says, are "wonderful instructors who have significantly influenced my [career] interests by demonstrating intense passion for the field."
"I never possessed clear career goals until taking MBA classes at UTSA," said Inocencio-Gray. "After starting the program, I knew I wanted to become an organizational studies researcher and faculty member due to an immediate connection to the material."
"I am eager to commit four to five years of my life to develop expertise [in organizational management subjects] and will work diligently to fulfill my goal to become a researcher and faculty member at an institution that values scholarship," she added. "I am very thankful to Mr. and Mrs. Beldon because they have assisted in removing financial barriers that are difficult to overcome and are making the academic and professional goals of a first-generation college student a reality."