UTSA student government members learn about green efforts at national institute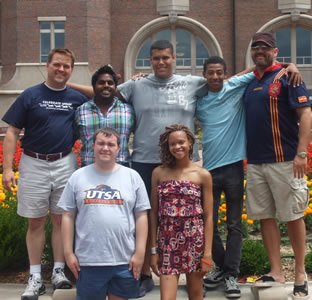 Share this Story
(July 19, 2011)--UTSA Student Government Association officers learned about sustainability efforts at campuses around the country this month when they attended the National Association of Campus Activities Student Government Institute at the University of Denver. They met with student government officers from schools including Washington State, Virginia Tech and University of San Francisco.
"It was inspiring to see so many active student leaders from across the country, all in one location, working towards a common goal of improving campus life and sustainability," said Xavier Johnson, SGA president at UTSA.
The student government institute provides the opportunity to learn about best practices, receive training in specific areas, and network with other student leaders and student affairs professionals. In addition to sustainability, the officers attended sessions on ethics, strategic planning and creative problem solving.
After the conference, the UTSA students explored the environment and did team building by hiking and rock climbing in Rocky Mountain National Park.