Leadership UTSA announces third cohort, recognizes 2010-2012 class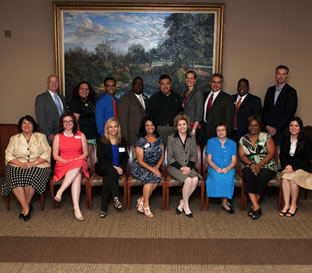 Share this Story
(July 1, 2011)--Members of the 2011-2012 class of Leadership UTSA recently were named. Faculty selected to participant in the leadership development program for the upcoming academic year are Vince Canizaro (Architecture), Rhonda Gonzales (History), Amy Jasperson (Political Science and Geography), Michael Jennings (Educational Leadership and Policy Studies), Kimberly Kline (Communication), Harry Millwater (Mechanical Engineering), Pamela Smith (Accounting) and Valerie Sponsel (Biology).
Staff participants will be Lupita Barrera (Institute of Texan Cultures), James Casey (Grants, Contracts and Industrial Agreements), Ross Cobb (Intercollegiate Athletics), Donna Edmondson (Office of the Registrar), Christi Fish (Communications), Maggie Floyd (Tomas Rivera Center), Elvira Jacquez (External Affairs), Barbara Jakubowski (Libraries), Jonathan Jarrell (Facilities), Diana Macias-Ollervidez (Office of the Controller), Diana S. Martinez (Financial Aid) and Wendy McCoy (Environmental Health, Safety and Risk Management).
The program was developed in 2009 by John Frederick, provost and vice president for academic affairs, and Gage Paine, vice president for student affairs, and inspired by UT System leadership development program. As part of Leadership UTSA, participants attend daylong workshops each month during the academic year to gain a broader understanding of university programs, services and responsibilities of each vice presidential area. In addition, each participant shadows a UTSA administrator during the spring semester.
"I think what has surprised me the most was how much I didn't know about UTSA," said Cie Gee, assistant director of admissions and a graduate of the 2010-2011 Leadership UTSA class. "There are so many things that work together in ways that you can't understand until you can see UTSA from 30,000 feet, which is a perspective Leadership UTSA gives you."
Gee is one of fours members of the most recent cohort who was selected to serve on the leadership team to develop programming for next year's class. Others include Lisa Alonzo, Leticia Duncan and Cory Hallam.
"Leadership UTSA is designed to cultivate leaders within the university, so having program graduates help teach the new cohort is one way we're putting that into action," said Gage Paine. "Also, many of the participants have told us they wanted an opportunity to continue engaging in these types of discussions after the formal program ended. So, this year we have introduced Leadership UTSA Year 2, which is an optional brown-bag lunch series open to those who went through the program the previous year.
"That program is being led by several members of the first Leadership UTSA class from 2009-2010, so it's another opportunity for program participants to engage with others across the university and across cohorts," Paine said.