UTSA, Universidad Autonoma del Estado de Morelos explore science, sustainability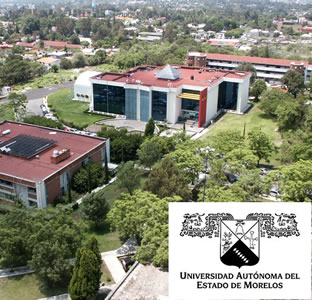 Share this Story
July 27, 2011)--A delegation from Morelos, Mexico, will arrive Thursday, July 28, at the UTSA Mexico Center to explore research opportunities and other collaboration with The University of Texas at San Antonio.
UTSA President Ricardo Romo will meet with Senator Graco Ramirez Garrido from the state of Morelos, and Fernando Bilbao Marcos, president of the Universidad Autonoma del Estado de Morelos (UAEM), to discuss the possibility of collaborative activities between the two universities with a focus on sustainability and economic growth. The UTSA Mexico Center is at the university's Downtown Campus.
"This meeting, coordinated by UTSA alumna Patricia Ruiz-Healy, is a win-win for this university and for the Universidad Autonoma del Estado de Morelos," said Harriett Romo, professor of sociology and Mexico Center director. "It unites two great universities in furthering efforts to serve a global community. It also shows the significance our alums have in expanding UTSA's international reach."
The meeting will include Juan Ruiz-Healy and Patricia Ruiz-Healy, owner of Ruiz-Healy Art Inc. in San Antonio; Javier Siqueiros Alatorre, academic secretary at Universidad Autonoma del Estado de Morelos; Luis Manuel Gaggero, UAEM director of the Science School; and Claudio Estrada Gasca, director of the Centro de Investigacion en Energia at the Universidad Nacional Autonoma de Mexico (UNAM).
Also attending from UTSA are Miguel Jose-Yacaman, chair of the Department of Physics and Astronomy; Arturo Ayon, professor and researcher in the Department of Physics and Astronomy; Mauli Agrawal, dean of the College of Engineering; Robert McKinley, assistant vice president and director of the Institute for Economic Development, and Jude Valdez, vice president for community services.
Established in 2005, the UTSA Mexico Center is the umbrella organization that connects UTSA's Mexico-related experts with each other and with research and educational partners in Mexico. The center conducts projects to promote greater knowledge and understanding of issues facing Latino immigrants from Mexico.
The center is a member of the Inter-University Program for Latino Research (IUPLR), a national group of university-based centers focused on the promotion of Latino scholarship within the United States. Through IUPLR, scholars network and conduct collaborative, policy-relevant research to mitigate the challenges facing the growing U.S. Latino population.