PREP high school students tour UTSA Environmental Engineering Lab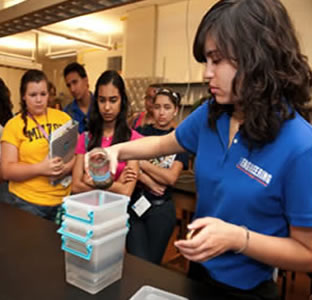 Share this Story
(July 20, 2011)--How much water does San Antonio use in a day? Why is chlorine added to drinking water? How do you clean up an oil spill? Fourth-year students in the Prefreshman Engineering Program had a chance this month to ask their water-related questions when they toured the UTSA Environmental Engineering Laboratory with Assistant Professor Heather Shipley.
The wet lab, which is equipped with tools to study water quality, pollution control and water/wastewater treatment processes, gave the 40 high school students an opportunity to learn about Shipley's current research on nanoparticles. The field trip to the lab coincides with a series of lessons on water science in which the PREP 4 students also learned about the history of the acequias and aquifer in San Antonio.
In addition to the Environmental Engineering Lab, the students toured UTSA's new Advanced Visualization Lab and have plans to visit other science and engineering laboratories on campus before the seven-week summer program ends.
"We've always had faculty come give talks to our PREP students as part of our career awareness," said Paul Uhlig, PREP site director. "But, having the researchers present in their own labs takes the concept to the next level and really demonstrates how PREP can feed into careers for these students."
PREP began 32 years ago at UTSA to encourage students, especially minorities and female students, to pursue careers in the STEM fields: science, technology, engineering and mathematics.
"When we talk to these students and show them what we're working on, we have the potential both to recruit them to UTSA and to get them excited about environmental engineering," said Shipley, who was the first woman to join the faculty of the Department of Civil and Environmental Engineering, in 2007.
Civil engineering student Jessica George, who also is a College of Engineering Ambassador and works in Shipley's laboratory, talked to the students about her experience and encouraged them to get involved with research as undergraduates. Shipley and George said they were both gratified to see that about half of the PREP 4 students are female.
"Having more women in the sciences is very important to me," George said.
Doctoral student Jinxuan Hu also spoke to the students about his research.