Sculpture and Ceramics Graduate Studio opens at UTSA Main Campus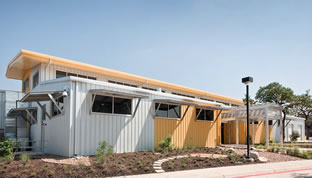 Share this Story
(July 1, 2011)--Construction of the 13,550-square-foot Sculpture and Ceramics Graduate Studio on the west side of the UTSA Main Campus was completed in May.
A teaching venue for the Department of Art and Art History, the studio houses office and classroom space, and 18 studios including a 3-D design studio with covered canopy areas, glazing and welding areas, and a critique gallery.
The project cost was slightly more than $3 million and was managed by the UTSA Office of Facilities.