UTSA president appoints 25 staffers to State Employee Charitable Campaign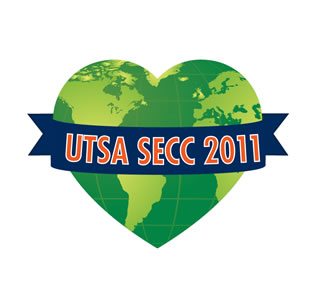 Share this Story
(June 27, 2011)--UTSA President Ricardo Romo has appointed 23 members to the UTSA 2011 State Employee Charitable Campaign (SECC) President's Advisory Committee. Committee members will coordinate various activities to support the campaign throughout October.
The campaign helps a variety of charitable nonprofit organizations. Employees can choose to donate to local, regional or national groups.
Last year, more than $253,943 was raised by UTSA employees with a 90-percent participation rate, earning UTSA the top place among all University of Texas System institutions.
"We've begun planning earlier this year and have many new initiatives we are excited to share," said Irene Maldonado, HUB program manager and SECC tri-chair. "We are honored that Dr. Romo has chosen us to lead the campaign."
>> The SECC marketing committee is seeking testimonial stories from UTSA community members who have benefited or who have family members and friends who have benefited from SECC agencies. The testimonials will be posted on UTSA Today and the SECC website. Submit story ideas at news@utsa.edu.
------------------------------
2011 State Employee Charitable Campaign President's Advisory Committee
Nikki Lee (co-chair), Events Management and Conference Services
Maria Holloway (co-chair), OIT Application Development Services
Irene Maldonado (co-chair), Purchasing and Distribution Services
Georgina Anguiano Elliott, Human Resources Management and Development
Amanda Beck, College of Sciences
Anna Borrego, Small Business Development Center
Tim Brownlee, University Communications
Marisol Chapa, Facilities-Downtown Campus
Christi Fish, University Communications
Dan Gelo, College of Liberal and Fine Arts
Kelly Kam-Watson, Office of the Vice President for Research
Kristina Leh, University Marketing
Rebecca Luther, Vice President for Academic Affairs
Gina Mendez, Office of the Vice Provost, Downtown Campus
Esther Miller-Brown, Equal Opportunity Services
Barbara Millis, Teaching and Learning Center
Irene Mireles, Institute for Economic Development and Small Business Development Regional Office
Sandy Norman, Department of Mathematics
CeCe Ortegon, Facilities, Main Campus
Elizabeth Ortiz, Payroll
Aaron Parks, Institute of Texas Cultures
Anne Peters, Libraries
Joe Rubio, Facilities, Downtown Campus
Kelly Jo Stephens, College of Sciences
Tammy Fernandez, SECC coordinator, Office of the President