UTSA honors Clay Killinger '83 and Nancy Kudla '87 at Alumni Gala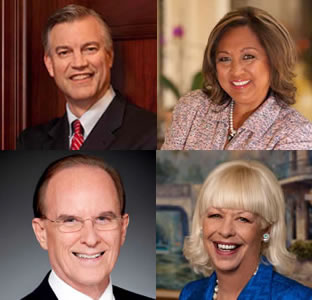 Share this Story
(Aug. 30, 2011)--Members and friends of the UTSA Alumni Association gathered this month at a black-tie gala at the JW Marriott in San Antonio to celebrate Alumni of the Year Clay Killinger '83 and Nancy Kudla '87 for their support of the university. Bexar County Judge Nelson Wolff and Zachry Holdings' Cathy Obriotti Green also were honored by the UTSA Alumni Association for distinguished service to the community.
"The annual Alumni Gala allows us to honor outstanding individuals who are making a difference in our community," said Anne Englert, director of UTSA Alumni Programs. "Proceeds from the gala fund student scholarships and support Alumni Association services."
Clay Killinger was honored with one of two Alumnus of the Year Awards at this year's gala. The first in his family to attend college, Killinger is a senior vice president and controller for Valero. He is a life member of the UTSA Alumni Association, serving as a member of the board of directors from 1997 to 2004. Killinger serves on the UTSA Development Board, Campaign Leadership Committee and College of Business Advisory Council. In 2010, Killinger and his wife, Cathy Killinger, were honorary chairs of the Alumni Gala, helping UTSA secure new corporate dollars for UTSA scholarships. Killinger graduated summa cum laude with a business administration degree in accounting and was a member of the UTSA Alpha Chi National Honor Society.
Nancy Kudla also was honored with the 2011 Alumnus of the Year Award. She has always been passionate about education. She graduated in 1980 from the U.S. Air Force Academy, a member of the first class to graduate women. Kudla helped found Research Dynamics just two years after graduating from UTSA with an M.B.A. The information technology company eventually became DNovus RDI, a multimillion-dollar enterprise.
Kudla has been instrumental in charting UTSA's foray into cyber security, starting with her service on the College of Business Advisory Council and the Center for Infrastructure Assurance and Security Council. She has been instrumental in providing scholarships for UTSA science and engineering students. In 2009, she lobbied her colleagues in the Armed Forces Communication and Electronics Association to create a scholarship for UTSA students majoring in technology and communications fields. Her philanthropy toward UTSA continues today. Kudla and her husband, Frank Kudla '85, are joint life members of the UTSA Alumni Association.
The Alumni Association also honored two friends of the university with Distinguished Service Awards...
Bexar County Judge Nelson Wolff has inspired growth and success in San Antonio and at UTSA for more than 40 years. He has served in the Texas House of Representatives, the Texas Senate and as mayor of San Antonio. Wolff has worked with city leaders to attract new businesses to San Antonio and Bexar County, increasing economic impact and diversity.
He also has supported the UTSA Downtown Campus, which houses multiple programs including the College of Public Policy, College of Education and Human Development, College of Architecture and the nationally recognized Institute for Economic Development. Wolff and his wife, Tracy Wolff, have co-hosted UTSA's Great Conversation fundraiser. He was the first community leader to support UTSA as the only NCAA Division I football team in San Antonio. Wolff serves on the UTSA Development Board and is a member of the UTSA Alumni Association.
Cathy Obriotti Green, vice president of community relations at Zachry Holdings, has been a longtime supporter of UTSA and higher education. She is a member of the UTSA Development Board and serves on the Campaign Leadership Committee. She has served on UTSA's Presidential Selection Committee and the College of Business Advisory Committee. Green led the Government Affairs and Education Council for the Greater San Antonio Chamber of Commerce.
From 1999 to 2005, she served on the Texas Higher Education Coordinating Board. During that time, six doctoral degree programs were approved at UTSA. Additionally, she serves a variety of organizations in various capacities including the South Texas Blood and Tissue Center, Alamo Public Telecommunications Council, San Antonio Area Foundation, World Affairs Council of San Antonio and United Way of San Antonio and Bexar County. A graduate of Texas Tech, Green joined the UTSA Alumni Association as an associate member in 2007.
This year's honorary chairs were Jane Burton and Emmette "Tuffy" Burton '95 with special guests UTSA President Ricardo Romo and Harriett Romo, UTSA professor of sociology and director of the Bank of America Child and Adolescent Policy Research Institute at UTSA. WOAI-TV news anchor Randy Beamer was the gala's emcee.