Have research, will travel: Environmental science grad studies in Brazil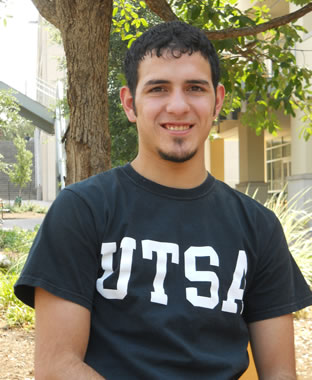 Share this Story
(Aug. 4, 2011)--It isn't unusual for graduate students and scholars to travel abroad to participate in research projects under other academics. It is slightly less likely for undergraduates to be offered the chance to study under one of the leaders in their chosen field.
Carlos D. Garcia from UTSA and his collaborators, Frank Gomez from California State University-Los Angeles, and Emanuel Carrilho, from Universidade de Sao Paulo, have developed an international research experience for undergraduates to do just that.
Funded by the National Science Foundation, the International Research Experience for Undergraduates grant provides travel expenses, such as airfare to Sao Paulo, ground transportation to Sao Carlos, housing and meals, as well as a modest scholarship for participants. It does not pay for any tourist-related trips the students may wish to take.
Joshua Conner, an environmental science May 2011 graduate, will travel with Garcia to Brazil this summer. He had taken a class with Garcia in the past, and when Garcia asked him to apply, he thought it would be an interesting experience to help him decide what step to take next in his studies.
"I'll be learning some of the stuff they've been doing to develop a microchip that will detect small amounts of chemicals," Conner explained. The chip could have implications for use in environmental science for in-field testing.
This will be Conner's first trip abroad. The eight-week program allows U.S. students to work with their Brazilian counterparts performing cutting-edge research. Garcia first took undergraduate students on the sponsored trip in 2010, which involved eight weeks of research on up to eight projects at the Institute of Chemistry of Sao Carlos.
Besides performing top-quality research, students have access to unique facilities such as the Synchrotron Radiation National Lab. We hope that all these scientific and cultural experiences will have a positive impact on their perceptions about the world, Garcia said.
The four United States students will join teams with Brazilian students working within similar research interests. Participants focus on developing highly trained undergraduate for careers in modern analytical chemistry such as microfluidics, chemical analysis and materials science in a program that includes research, seminars and workshops.
Funded by a National Science Foundation grant, the trip encourages undergraduate researchers to gain international experience though the Developing Global Scientists and Engineers program. The International Research Experiences for Students allows groups of U.S. undergraduate or graduate students conducting research abroad in collaboration with foreign investigators.
All the projects have been selected to permit tangible accomplishments -- potentially including refereed publication and presentation at an appropriate scientific meeting -- yet must be sufficiently open-ended so that students could potentially continue working at their home institutions.
All the projects available to students have been developed primarily from ongoing, externally funded research programs. The students are expected to return to their home institutions capable of presenting their results at a scientific meeting and earn a co-authorship of a paper in a peer-reviewed publication.
Conner hopes to accomplish enough work that he will be able to write a couple of journal articles as well as present at scientific conferences on his results: "I'm just going to do as much as I can while I'm there to improve my skills."
------------------------------
2011 participants
Jose Jurado (Drexel University; San Antonio)
Joshua Conner (UTSA; San Antonio)
Marisol Salgado (CSU Los Angeles; Los Angeles)
Melendez Jhanisus (CSU Los Angeles; Los Angeles)
2010 participants
Robert Sarver (St. Phillips Community College; San Antonio)
Joseph Barrios (UTSA; San Antonio)
Maria Ortega (CSU Los Angeles; Los Angeles)
Chris Serrato (East Los Angeles College; Los Angeles)