Fun, food, football: UTSA Football Coach Larry Coker hosts live radio show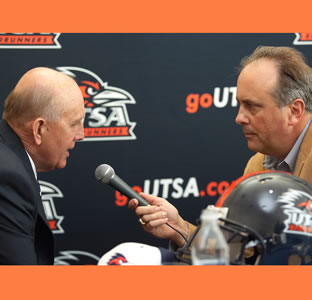 Share this Story
(Aug. 23, 2011)--Come join us for fun, food and football! UTSA Head Coach Larry Coker's radio show will broadcast live on Ticket 760 from Stone Werks Big Rock Grille on La Cantera Parkway at the Rim shopping center at 7 p.m. each Wednesday beginning Aug. 31.
Stone Werks will host the radio show from 7 to 8 p.m. every Wednesday during UTSA's inaugural football season.
If you can't join in, be sure to tune to Ticket 760 AM to get the latest on UTSA football. There will be special appearances by assistant football coaches, Rowdy and the UTSA Marching Band throughout the season. Don't miss it!