UTSA hosts Aug. 26 conversation with Grammy winner Eddie Palmieri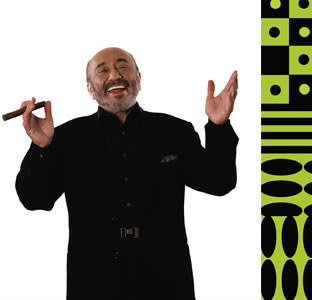 Share this Story
(Aug. 18, 2011)--Nine-time Grammy award winner Eddie Palmieri will discuss his more than 50 years in the music industry and answer questions from aspiring musicians and curious visitors during "A Conversation with Eddie Palmieri" on Aug. 26. The event is sponsored by the UTSA Downtown Campus, UTSA Department of Music and the Guadalupe Cultural Arts Center.
>> Free and open to the public, the informal conversation will be 6-7 p.m., Friday, Aug. 26 at the Buena Vista Theater on the Downtown Campus, 501 W. Cesar E. Chavez Blvd. The event is free and open to the public. Free parking will be available in lot D3 under Interstate 10.
"We are excited and honored that we can participate in hosting Eddie Palmieri's visit to San Antonio," said Jesse Zapata, UTSA vice provost for academic and faculty support and the Downtown Campus. "His conversation at the Buena Vista Theater should be very educational and illuminating."
Palmieri has led salsa and Latin jazz orchestras for more than 50 years. He received his first Grammy in 1975 for "The Sun of Latin Music," which became his industry nickname. The 1975 win marked a historic place in the music industry as the first time the National Academy of Recording Arts and Sciences recognized Latin music.
The following year, Palmieri won a Grammy for "Unfinished Masterpiece," followed by "Palo 'Pa Rumba" in 1984, "Solito" in 1985 and "La Verdad" in 1987. In 2000, he received a Latin Grammy and traditional Grammy for "Obra Maestra/Masterpiece," a collaboration of Palmieri and Tito Puente. Palmieri has numerous awards and honors including a 1988 Smithsonian Institution recording of two of his performances for the catalog of the National Museum of American History in Washington, D.C.
For more information about the UTSA event, call 210-458-2712.