Sept. 1: First pep rally at Downtown Campus, Howdy Rowdy Bash at Main Campus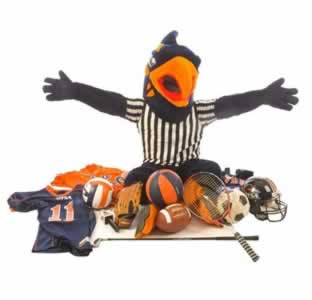 Share this Story
(Aug. 29, 2011)--It's time for UTSA football -- and students, faculty and staff are invited to two special events this Thursday. To kick things off, the first pep rally of the season is noon-1 p.m., Thursday, Sept. 1 at Bill Miller Plaza on the Downtown Campus. Then, the Howdy Rowdy Bash is 6-8 p.m. that night at the Convocation Center east lawn on the Main Campus.
Wear your orange and blue to show your UTSA spirit!
At the Downtown Campus Pep Rally, Joe Reinagel, KENS TV sports personality, will host the event featuring UTSA football players, Head Football Coach Larry Coker, the UTSA marching band, cheerleaders and much more. "The pep rally is a historic event celebrating a big step in UTSA's development. This is an exciting period at UTSA, and the Downtown Campus is proud to participate in it," said Jesse Zapata, UTSA vice provost for academic and faculty support and the Downtown Campus.
Later at the Howdy Rowdy Bash on the Main Campus, meet the UTSA student-athletes and celebrate one more time the official kickoff of UTSA's inaugural football season. Chant with the UTSA cheerleaders, sing the UTSA fight song with the Marching Band and get crazy with Rowdy the Roadrunner. There will be music, along with free food, t-shirts and other giveaways while the supplies last. For more information, contact the Campus Activities Board at 210-458-4727 or cab@utsa.edu.
For more information, visit the UTSA Football Game Day or UTSA Athletics websites.