Prefreshman Engineering Program closes 33rd summer with inspiring speech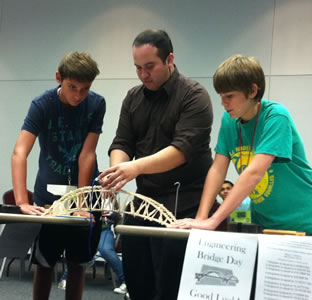 Share this Story
(Aug. 4, 2011)--Approximately 3,500 people gathered in the Convocation Center on the UTSA Main Campus last week to celebrate the close of the San Antonio Prefreshman Engineering Program (PREP) for this year. The summer program encourages middle and high school students, especially minorities and females, to pursue careers in the STEM fields: science, technology, engineering and mathematics.
PREP was founded in 1979 with 44 students. Today, the program serves 1,375 PREP students at 10 locations in San Antonio and nearly 4,500 PREP students outside of San Antonio and in other U.S. states. The academically intense curriculum teaches abstract reasoning and problem solving skills. It is delivered over four summers through lectures, seminars and hands-on activities that allow students to learn and apply advanced STEM concepts. The curriculum includes, but is not limited to, mathematics, problem solving, engineering, physics, technical writing, water science, computer science, research and STEM career awareness sessions.
PREP alumnus Jude Espinoza, a respected cardiologist in the Central Cardiovascular Institute of San Antonio, presented the ceremony's keynote address. With detail, he recalled his time in PREP with mathematics teacher Manuel Berriozabal, UTSA professor of mathematics and PREP founder.
"We got to listen to a math magician who was a rock star of sorts," Espinoza recalled. Over a series of summers, Berriozabal made math, logic and problem solving seem effortless. Espinoza also told the students about Jan. 11, 1998, the fateful day when his esteemed math teacher entered the hospital in the midst of a heart attack. Espinoza treated Berriozabal that day, a serendipitous way of honoring the teacher who turned him on to the skills underlying his profession.
Espinoza encouraged the graduates, telling them, "If you can understand math and logic, it makes the hard stuff simple."
PREP alumni likely would agree.
Historically, 99 percent of the students who completed one semester of PREP continued on to college. And last year, 75 percent of those students were members of minority groups, 53 percent were female and more than one-third represented low-income families.
"We are extremely proud of this year's PREP students," said Rudy Reyna, PREP executive director. "They are getting a head start on concepts they will encounter in high school and college, and many will earn scholarships to study STEM at local universities for successfully completing PREP. They are extremely hard working and have a very bright future ahead of them."
Applications for the summer 2012 PREP program will be available in November. To learn more, visit the PREP USA website or call 210-458-2060.