UTSA Graduate School hosts third Provost's Summer Research Program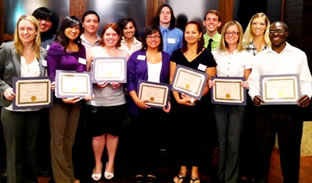 Share this Story
(Aug. 26, 2011)--The UTSA Graduate School recently concluded the third annual Provost's Summer Research Program. The program helps prepare students for the competitive graduate school admissions process, along with building skills to help them succeed once admitted.
The 10-week program provides the opportunity to work on an intensive research project with a UTSA faculty mentor, to participate in a professional development seminar and to take a GRE preparatory course.
Students shared the results of their research endeavors at an Aug. 3 poster session. Twelve students participated this year including students from UTSA, University of Texas at Brownsville, Texas A&M International University and University of the Incarnate Word.
Additionally, there was an awards ceremony after the student poster session with participants from the Provost's Summer Research Program and 29 students who participated in other UTSA research programs including the USDA-funded Teaching and Research in Environmental Ecology (TREE) program headed by Janis Bush, UTSA associate professor of biology; Valero-funded UTSA Summer Scholar JD Fields; the Louis Stokes Alliance for Minority Participation headed by Darrell Balderrama, UTSA director of P-20 programs; and the National Science Foundation Research Experiences for Undergraduates in the Experimental Study on Computer Architecture and Performance Evaluation program (ESCAPE) headed by Byeong Lee, UTSA professor of electrical and computer engineering.
Special thanks went to Provost John Frederick for initiating the program and to Dorothy Flannagan, UTSA vice provost and dean of the Graduate School, for sustaining it; to David Romero, associate professor of political science and geography, who has been the program leader for the Provost Summer Research Mentor Program from its inception; Lisa Palacios, director of graduate recruitment and coordinator of the program for the Graduate School; and to the supportive and involved faculty mentors, without whom the program would not be possible.
------------------------------
2011 UTSA Provost's Summer Research Program student participants and faculty mentors
| | | | |
| --- | --- | --- | --- |
| Students | Affiliation | Department | Faculty mentor |
| Theo Busby | UTSA | Biology | Mathew Godvin |
| Mathew Gordon | UTSA | Chemistry | Carlos Garcia |
| Tina Kim | TAMUI | Environmental Sciences | Janis Bush |
| Daniela Krotzer | UTSA | Social Work | Richard Harris |
| Monica Luna | UTB | Counseling | Michael Moyer |
| Kristina Marques | UTSA | Chemistry | Oleg Larionov |
| Eduardo Mathew | UTSA | Biology | Robert Renthal |
| Jennifer Oliva | UIW | Chemistry | Zachary J. Tonzetich |
| Danielle Ortega | UTSA | Biology | Judy Teale |
| Joseph Perez | UTSA | Computer Science | Jianhua Ruan |
| Brenda Taylor | UTB | Counseling | Nathaniel Ivers |
| Erin Wit | UTSA | Justice Policy | Mike Tapia |