UTSA's Richard Diem elected VP of Social Science Education Consortium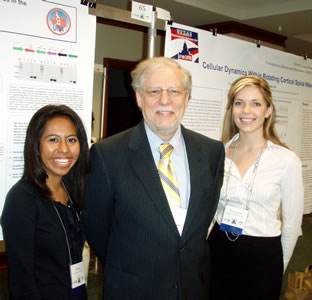 Share this Story
(Aug. 4, 2011)--Richard Diem, dean of the UTSA Honors College and professor of education, has been elected vice president of the Social Science Education Consortium. In 2012, Diem will serve as the president of the professional organization, whose membership includes leading social scientists and social science educators throughout the U.S. and Canada.
Before joining UTSA in 1975, Diem taught in public schools in suburban Chicago and served on the faculty at Northern Illinois University. He taught at Texas Women's University in 1982 and the Escola de Superior in Viseu, Portugal, in 1984 as part of his Fulbright award.
Diem's research interests encompass the application of technology to educational environments and the cultural implications of information and technological dependence in school settings. His scholarly work includes four books, 98 articles, 100 papers and more than $5 million in funding.
Diem is a graduate of Northwestern University, where he earned his Ph.D. in education and anthropology. He earned a master's in history from Colorado State University, a master's in education from Southern Illinois University and a bachelor's degree in history from Bradley University. Additionally, he is the recipient of two Fulbright-Hayes Professorships to Portugal and Korea, and he has served as president of the National Council for the Social Sciences.
"Dr. Diem is the perfect person for the job, given the breadth and depth of his expertise in the discipline," said Betty Merchant, dean of the UTSA College of Education and Human Development. "Starting his career as a high school social studies teacher, he soon received his Ph.D. in education and became a university professor. He has published extensively in the field of social studies, and his scholarly work encompasses an impressive range of books, book chapters, journal articles and professional manuals."
Diem has served as a consultant to numerous public and private educational organizations and has an impressive record of service to the discipline including serving as representative of the National Council for the Social Studies and as president of the National Council for the Social Studies.
Founded in 1963, the Social Science Education Consortium is a nonprofit educational corporation dedicated to strengthening the social science content in social studies education. Recently, the consortium developed a series of economics investigations with funding from the National Science Foundation, generated a series of high school thematic U.S. history modules in collaboration with the Colonial Williamsburg Foundation, evaluated two Teaching American History grant projects in two large school districts and conducted an international civic education exchange project.