UTSA center awards $21,500 scholarships to two biology doctoral students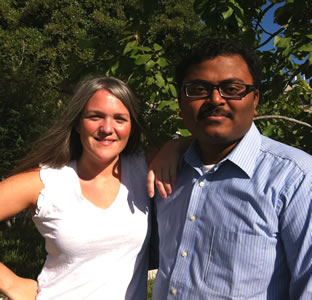 Share this Story
(Aug. 31, 2011) -- The UTSA South Texas Center for Emerging Infectious Diseases (STCEID) has awarded its annual $21,500 STCEID doctoral scholarships to Sai Lakshmi Raj Karna and Sarah Hardison, who are working toward their doctoral degrees in cellular and molecular biology through the UTSA College of Sciences Department of Biology. The funding will help Karna and Hardison complete their doctoral research.
Karna is researching Lyme disease under the direction of Janakiram Seshu, UTSA associate professor of bacterial pathogenesis. Lyme disease is a re-emerging infectious disease and is becoming increasingly prevalent in the United States.
Karna is investigating the molecular mechanisms that lead to the onset of the disease. He expects his research to contribute to the development of new strategies to prevent the disease in humans and domestic animals. After he graduates in fall 2013, he will continue his research career with a postdoctoral fellowship and hopes to become a microbiology and infectious diseases researcher at a top-tier research institution.
"This scholarship provides ideal opportunities to accentuate my training in cutting-edge methodologies and develop testable concepts in microbiology and infectious diseases that will aid my long-term career development plans," said Karna.
Under the direction of Floyd Wormley, UTSA associate professor of microbiology and immunology, Hardison is studying the protective immune response to Cryptococcus neoformans, the fungus that causes the disease cryptococcosis and is the leading fungal cause of mortality in AIDS patients. Hardison's research will contribute to new immunotherapies for cryptococcosis. She already has accepted a post-doctoral position, which she will begin after she graduates from UTSA.
"I am very thankful to the South Texas Center for Emerging Infectious Diseases for this award and for the years of support I have received from the members of the center through collegial feedback and collaboration," said Hardison.
This is the third year the UTSA infectious disease center has awarded its scholarships to promising doctoral students.
"Doctoral training in microbiology is extremely time-intensive," said Karl Klose, UTSA professor of microbiology and STCEID director. "To become proficient, students must dedicate themselves to their research full-time. By awarding these doctoral scholarships, the South Texas Center for Emerging Infectious Diseases hopes to alleviate the financial burdens associated with doctoral education so our students can focus on the training they came here to receive. Mr. Karna and Ms. Hardison are well-deserving of this award, and represent the next generation of scientists who will conquer infectious diseases and protect mankind."