UTSA Art Collection's Carla Veliz and Ramin Samandari exhibit at Gallery Nord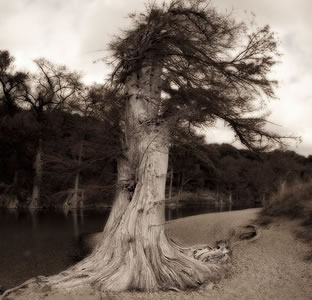 Share this Story
(Sept. 23, 2011) -- During a VIP reception Aug. 25 at Gallery Nord, Carla Veliz exhibited her piece "XXI: Who We Are And Who We Could Become" that was 42 days in the making. Accompanying her central piece were film stills from a movie documenting the techniques she employed in creating the mixed-media silk cloth; spread throughout the downstairs level of the gallery were assemblages of pieces she used in the creative process. Upstairs featured work by Ramin Samandari from his "Earthly Bodies" series of black-and-white photographs that focus on the human body and landscapes around San Antonio.
Gallery Nord owner Carina Gors opened her doors five years ago, but this exhibition marks her first collaboration with curator Arturo Almeida and The University of Texas at San Antonio. Almeida has made every effort to develop a relationship via art between UTSA and the San Antonio community. Gors initially selected Samandari as one of her fotoseptiembre artists, and Almeida suggested Veliz as an artist to feature. Additionally, both artists are featured in "The UTSA Art Collection," a forthcoming publication highlighting 200 works of art.
Gors notes that both artists "cover the human condition from different angles." Veliz does so by commenting on the political state of the human condition in the 21st century, and Samandari through the personal examination of life and the spiritual connection to landscapes such as Enchanted Rock, Pedernales River and the Guadalupe River.
Veliz was born in Piedras Negras, Mexico, and moved to San Antonio in 1992. Her works are highly textural and involve a variety of materials. "XXI: Who We Are And Who We Could Become" emanates not only from a need for expression of her life experiences and an identity formed from dealing with dual cultures, but also highlights the injustices that often plague our world, especially in second- and third-world countries.
She started the project with a pure white silk cloth and spent 21 days trampling on it, leaving it to weather the elements outside and more. Eventually, using red paint to symbolize blood she wrote "BASTA" (Spanish for "enough") on the material. She spent the next 21 days trying to undo the damage she inflicted, starting with a ritual cleansing, carefully sewing together the torn pieces, then adding lace, pearls and glitter.
Despite her inability to return the cloth to its virgin form, she was able to create an elegant piece intended to represent the indomitable spirit of the human condition and a form of hope. Almeida notes in his curatorial statement, "'XXI' is ultimately a poetic homage to infinite possibilities and the tenacity of hope."
Samandari emigrated from Iran to the United States in 1978. He is a San Antonio artist who works with both photographic and digital imaging processes. In his series "Earthly Bodies," he looks at "the human form in relation to other forms, space and the intangible forces of time, place and history."