UTSA Department of Music Vocal Performance Students Perform in China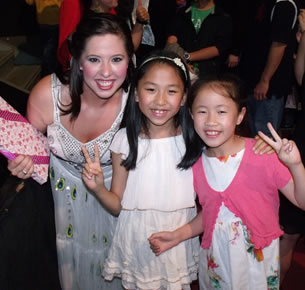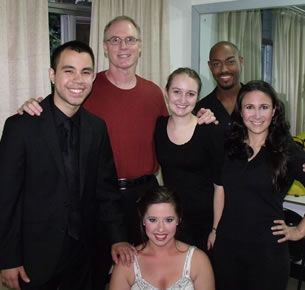 Share this Story
(Sept. 16, 2011)-- The old UTSA adage, "Come here, go far" came to life this summer for five COLFA students as they and associate professor William McCrary (Department of Music) spent the first two weeks of August participating in the Yunnan Opera Festival in Kunming, China.
Department of Music Vocal Performance majors Kristin Degroot, Laura Estrada, Christina Taylor, Darius Thomas, and Jacob Valadez each performed major roles in Puccini's Gianni Schicci and Act II of Mozart's Die Zauberflöte. Both operas were presented in their original language and, according to local authorities, were the first productions of western opera to be performed in Kunming.
The three evenings of performances were the culmination of two weeks of voice lessons, diction classes, master classes, music rehearsals, and staging rehearsals in what the Chinese city referred to as the City of Eternal Spring (due to Kunming's yearly temperate climate).
When asked about the educational experience Darius Thomas stated, "The invaluable education and musical experience I received from China will be with me always. The quality of the students and professors were the best in the nation."
The program included students and professors from the United States, Taiwan, and China.
Kristin Degroot noted, "It was astounding to experience, not only the beautiful differences in our two cultures, but also the large number of similarities." Christina Taylor added, "Performing with people from all over the United States, China, and Taiwan was amazing. It was incredible to see the singers grow so and amazing to watch the Chinese students, on stage and in the audience, experience Western opera for the first time. It was absolutely a 'once in a lifetime' experience."
Each performance was attended by local adults as well as a hundred or so school children from a local visual and performing arts school. After each performance, the singers were presented with gifts from the children as a thank you for the performance and as a way of sharing the Chinese culture with the American students. When asked their reaction to the performance, several children stated, "It was awesome!"
The trip was partially funded by UTSA donors Charles and Charlotte Walker as well as by efforts of each student. Jacob Valadez, who begins graduate study at Baylor University this fall commented, "We were so thankful that Charles and Charlotte (Walker) helped us with the airfare. Several of us would not have been able to go without their generosity. As for me, China was a fun and an exciting experience! Being immersed in someone else's culture and getting acquainted with their customs was such a shock. I learned that one must not take for granted the things we are lucky to have here in America."