UTSA celebrates Hispanic Heritage Month with poetry of Gregg Barrios and more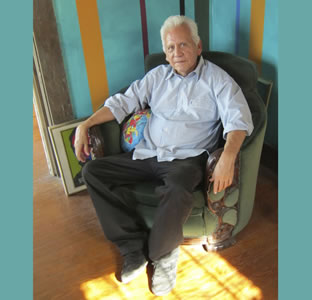 Share this Story
(Sept. 30, 2011) -- Local authors, performers and artists will celebrate "The New Latino Generation" during UTSA's National Hispanic Heritage Month event at 7 p.m., Wednesday, Oct. 5 in the University Center Retama Auditorium (2.02.02) on the Main Campus. The event is free and open to the public.
>> Open to the public, a 6 p.m. reception will precede the program in the Retama Auditorium foyer. Refreshments will be served.
Featuring the work of poet Gregg Barrios, guest readers/performers will include Sandra Cisneros, John Phillip Santos, Ben Olguin, Norma Cantu, Anthony Flores and Brad Milne.
A companion art exhibit will run concurrently with the event in the University Center's Gallery 23. Curated by Arturo Almeida, the exhibit features pieces from the UTSA Art Collection and highlights artists who have inspired Barrios' poetry including Rolando Briseno, Kathy Vargas, Vincent Valdez, Cesar Martinez, Armando Sanchez, Franco Mondini-Ruiz, Carmen Lomas Garza and Patsy Valdez. The exhibit runs through Nov. 5.
Playwright and poet Gregg Barrios came to the arts after a successful career as a journalist for the Los Angeles Times and a book editor for the San Antonio Express-News. His latest book, "La Causa," is a collection of poetry ranging from sonnets to songs, ballads, prose and narrative verse that explore the evolution of Latino culture from the beginning of the Chicano Mexican-American civil rights movement.
Free parking for this event will be available in the Bosque Road/South Garage. (See more information and a parking map.
The event is sponsored by the UTSA Office of the President, UTSA Libraries, Consortium for Social Transformation and Mexican-American Studies Program.