UTSA business and engineering colleges ranked in Top 10 by Hispanic Business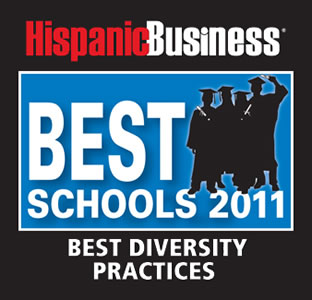 Share this Story
(Sept. 30, 2011) -- The UTSA College of Business and College of Engineering were ranked the No. 3 and No. 7 graduate programs in the nation in Hispanic Business magazine's "2011 Best Schools for Hispanics" in its September 2011 issue.
"We are honored to be recognized by Hispanic Business for the fourth straight year," said Lynda Y. de la Vina, dean of the UTSA College of Business and Peter Flawn Professor of Economics. "This ranking speaks to the quality of our academic programming and the services that we provide our MBA students. It elevates the college into the upper echelon of business schools in the nation."
The Hispanic Business business-school rankings include (in order) University of Texas at El Paso, University of Texas at Austin, UTSA, New York University, University of Miami, University of Virginia, University of New Mexico, Stanford University, Yale University and Florida International University.
It is the second consecutive year that the UTSA College of Engineering was ranked in the Top 10 by the magazine.
"We have put a great amount of effort into strategically growing our graduate programs over the last 10 years to meet the needs of students, especially those from underrepresented groups," said Mauli Agrawal, dean of the UTSA College of Engineering and David and Jennifer Spencer Distinguished Chair of Engineering. "We are thrilled to be recognized once again for our graduate engineering programs. The other universities ranked on his list are a Who's Who of graduate engineering programs, and we are honored to be included."
The publication's engineering program rankings (in order) included Georgia Institute of Technology, University of Texas at El Paso, University of Central Florida, Purdue University, MIT, University of Florida, UTSA, Cal Poly Pomona, University of New Mexico and University of Texas at Austin.
Hispanic Business ranked the top 10 universities nationally in business, medicine, law and engineering based on five criteria: enrollment of Hispanics, percentage of full-time Hispanic faculty members, availability of student support and services, retention rates and graduate program reputation. This is the 14th year that Hispanic Business has conducted the study.
The UTSA College of Business offers a comprehensive business curriculum at the undergraduate, graduate and doctoral levels. The college's MBA program was ranked No. 4 in the Southwest and No. 28 nationwide by BusinessWeek and has been named one of the top 10 MBA programs for minority students by the Princeton Review for the last six years. Nationally ranked and recognized, the UTSA College of Business is accredited by AACSB International, The Association to Advance Collegiate Schools of Business. It is one of the 40 largest business schools in the nation with 5,600 enrolled students and 47 different graduate and undergraduate business programs.
Dedicated to education, research and service, the UTSA College of Engineering is one of the fastest growing engineering schools in Texas. From 2000 to 2007, the college's enrollment more than doubled and research funding increased seven-fold. The college offers academic programs in biomedical engineering, civil and environmental engineering, electrical and computer engineering, and mechanical engineering. Research strengths include security, health, energy and the environment, and sustainability.