Assistant professor in criminal justice receives award for best journal article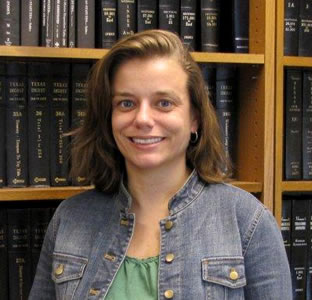 Share this Story
(Sept. 6, 2011) -- Holly Ventura Miller, assistant professor of criminal justice in the UTSA College of Public Policy, recently received the Outstanding Article Award from the Southern Criminal Justice Association (SCJA) for her article, "The Social Context of Acculturation: Findings from a Sample of Hispanic Adolescents." The award is given to the best article published in the SCJA official publication, American Journal of Criminal Justice. The article was chosen from 50 articles that appeared in the publication over the last year.
"It is awards such as these that show how serious the faculty is in moving UTSA forward to become a Tier One research university," said Roger Enriquez, chair of the Department of Criminal Justice. "Our faculty continues to demonstrate research capabilities consistent with the best criminal justice researchers in the nation. We are proud to say that the Department of Criminal Justice is helping to lead the College of Public Policy to the next level."
Miller's article reflects her research, which attempts to fill gaps in the current literature related to the influence of acculturation on Hispanic drug use and delinquency. Miller examined the relationship between drug use and gang membership, drug availability and peer influence among Mexican American adolescents in the southwestern United States.
"While it's great to be recognized for your work, I'm more excited about the actual substantive topic of the research," said Miller. "No group has grown faster in the U.S. over the past two decades than the Hispanic population, but criminological research has lagged behind. There is a dearth of empirical knowledge out there about Hispanics and crime, and I hope that by bringing attention to this particular article, it will spur on additional investigations of the diverse groups comprising the Hispanic population in the United States."
The Southern Criminal Justice Association is a regional organization affiliated with the Academy of Criminal Justice Sciences. Officially established in 1972, SCJA is a professional association serving criminal justice educators, researchers, practitioners and students committed to the ongoing development of criminal justice science and practice.