Undergraduate Orientation Advisory Board seeks programming proposals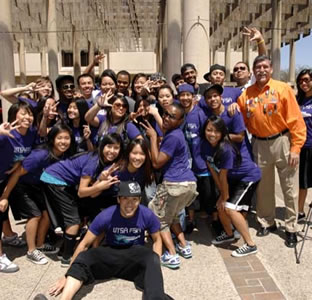 Share this Story
(Sept. 7, 2011) -- The UTSA Undergraduate Orientation Advisory Board (OAB) is seeking proposal submissions for modifications to orientation programming during the 2011-2012 academic year.
Proposals intended for implementation during orientation sessions for students who will enter UTSA in spring 2012, summer 2012 and fall 2012 are due Sept. 30, 2011, to George Norton, assistant vice president for admissions, orientation and family programs. Email proposals to Canda Brown, senior administrative associate, Office of Admissions.
The OAB is chaired by Fred Hample, executive director for Downtown Campus student operations. The board consists of representatives from teaching faculty, Academic Advising, Testing Services, Academic Support and Undergraduate Studies, Downtown Campus, New Student Admissions, Residence Life, Business Affairs, Orientation and Family Programs, student representatives and University Development.
The Orientation Advisory Board will respond to proposals with recommendations during October 2011. As part of their deliberations, the board may communicate with or host discussions with proposal authors and other key constituents. The OAB will make final recommendations to George Norton and Gage Paine, vice president for student affairs.
There is no mandated format for proposal submissions; however, previous successful proposals have generally addressed these topics:
Purpose
Goals
Proposal details/strategy
Resources
Summary