UTSA president invites faculty, staff to SECC Kickoff and Agency Fair Oct. 3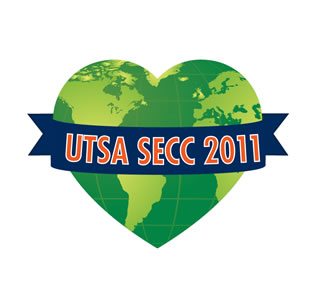 Share this Story
(Sept. 30, 2011) -- UTSA President Ricardo Romo invites UTSA faculty and staff to celebrate the kickoff of the universitys 2011 State Employee Charitable Campaign. Last year, UTSA employees donated $254,000 through SECC to support their favorite Texas charities. This year, UTSA aspires to donate $260,000.
>> The 2011 SECC Kickoff and Agency Fair will be from 3 to 4:30 p.m., Monday, Oct. 3 in the University Center Ballroom (1.104) on the Main Campus. Stop by information tables and learn about many of the agencies that benefit from SECC donations.
At the kickoff, Romo will recognize UTSA departments that achieved 100 percent participation in 2010. He also will introduce the month of SECC events. Bibliophiles, for example, can donate gently used books to the SECC Book Sale, where they will be available for purchase in mid-October. Collection boxes marked "SECC" are available across the UTSA Tri-campuses. Artists and others are invited to donate items to the SECC Silent Auction. See the SECC website for more information.
Held annually in October and conducted in cooperation with United Way, the SECC provides an opportunity for state employees to contribute to Texas charities through their workplace and enjoy the flexibility of selecting a one-time gift or payroll deduction.
This year's giving campaign runs Oct. 3-31. Online donations are encouraged but not required, and employees who make donations will be entered into special prize drawings scheduled throughout the month.
Last year, Texas state employees raised $912,000 for charities.