UTSA to host open forums on strategic plan implementation process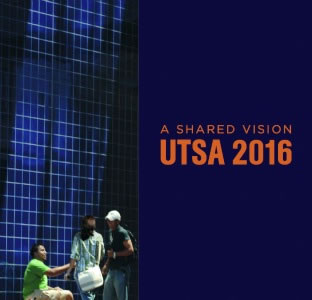 Share this Story
(Sept. 5, 2011) -- As part of a review of the UTSA strategic plan implementation, the university will hold a series of university-wide, open forums throughout September. Each session will focus on a different area related to the UTSA 2016 Strategic Plan.
"Our goal of becoming a premier research university does not change, but the path we take toward that goal very likely will change in response to context changes at the university, in Texas and in higher education," said John H. Frederick, UTSA provost and vice president for academic affairs. "To achieve Tier One status will require the combined efforts of everyone who works at UTSA, so it's important to provide all interested faculty and staff an opportunity to give input into this strategic planning process."
Each session will be two hours long and will be facilitated by a Strategic Resource Planning Council representative. Notes will be taken at each session. The schedule is listed below.
The review of the implementation plan began in August, when the Strategic Resource Planning Council conducted a two-day retreat at the Main Campus. During fall 2011, the strategies and tactics proposed at that retreat will be further refined through follow-up SRPC sessions as well as through the open forums. In January 2012, a revised implementation plan will be announced.
------------------------------
September 2011 forums
(open to the university community)
Sept. 9 -- Student Success 1
Topics: ensuring high-quality course instruction and evaluation, faculty recruitment and support, expanding use of instructional technology, coordinating curricular and co-curricular activities, growing undergraduate research
Facilitator: Rob Robinson (Distance Learning)/Steve Wilkerson (Institutional Research)
1-3 p.m. -- University Center Bexar Room (1.102), Main Campus
1-3 p.m. -- Buena Vista Street Building Room 4.304A, Downtown Campus
Sept. 13 -- Scholarly Activities
Topics: promoting interdisciplinary research, commercialization of intellectual property, research infrastructure support (space, animal facilities, compliance, etc.), development of external partnerships
Facilitators: Jeffrey Kantor (Research Development)/Cory Hallam (Research Administration)
Noon-2 p.m. -- University Center Travis Room (2.202), Main Campus
Noon-2 p.m. -- Buena Vista Street Building Room 4.304A, Downtown Campus
Sept. 15 -- Administrative Processes
Topics: improving processes for disbursements, purchasing, travel reimbursement, data reporting (e.g., FAIR, Blue Book), sponsored projects (e.g., grant proposal processing)
Facilitator: Pam Bacon (Business Administration)
10 a.m.-noon -- University Center Harris Room (2.212), Main Campus
Sept. 16 -- Enrollment Management
Topics: increasing student quality, enhancing diversity, marketing to prospective students, efficient and effective use of financial aid, defining the appropriate balance between undergraduate and graduate populations
Facilitators: George Norton (Admissions)/Lisa Blazer (Financial Aid)
1-3 p.m. -- Biotechnology, Sciences and Engineering Building Multipurpose Room (2.102), Main Campus
1-3 p.m. – Buena Vista Street Building Room 4.304A, Downtown Campus
Sept. 20 -- Resource Management
Topics: allocation and renovation of space, budget management, staffing, resource prioritization and planning
Facilitator: Janet Parker (Financial Affairs)
Noon-2 p.m. -- University Center Harris Room (2.212), Main Campus
Sept. 23 -- Community Engagement
Topics: adult and pre-college educational programs, economic outreach activities, quality-of-life enhancement, community outreach
Facilitators: Bob McKinley (Economic Development)/Laura Murray (Advancement Services
9-11 a.m. -- University Center Retama Auditorium (2.02.02), Main Campus
9:30-11:30 a.m. -- Buena Vista Street Building Room 4.304A, Downtown Campus
Sept. 27 -- Marketing
Topics: messaging Tier One to the community, internal communication within the university, capital fundraising campaign
Facilitators: Michael Zahn (Marketing)/Jim Mickey (Alumni Programs and Marketing)
11:30 a.m.-1:30 p.m. – Biotechnology, Sciences and Engineering Building Multipurpose Room (2.102), Main Campus
Noon-2 p.m. -- Buena Vista Street Building Room 4.304A, Downtown Campus
Sept. 30 -- Student Success 2
Topics: curriculum development, new degree program development, enhancing graduate studies, building signature experiences, creating a vibrant campus educational environment
Facilitators: Nancy Martin (Undergraduate Studies)/John Kaulfus (Student Affairs)
2-4 p.m. – Biotechnology, Sciences and Engineering Building Multipurpose Room (2.102), Main Campus
1-3 p.m. -- Buena Vista Street Building Room 4.304A, Downtown Campus