Rowdy Wing Fling is 6:30 p.m., Thursday, Sept. 8 at Convocation Center east lawn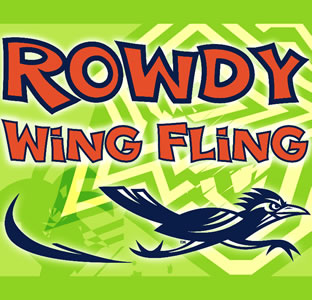 Share this Story
(Sept. 8, 2011)--UTSA Rowdy Wing Fling, a free event for the entire UTSA community, is 6:30-8:00 p.m., Thursday, Sept. 8 at the Convocation Center east lawn on the Main Campus. The event is to educate and promote awareness of the risks and responsibilities of alcohol use.
UTSA departments and San Antonio community agencies will share information about their services and programs. Event participants also can enjoy activities, chicken wings and t-shirts, along with music by Big Richard.
The evening's activities are supported by Office of Student Activities, Be A Responsible Roadrunner (BARR), Campus Activities Board, Housing and Residence Life, Campus Recreation, Student Judicial Affairs, UTSA Police Department, Counseling Services, ARAMARK, Campus Living Villages and Nationwide Insurance.
For more information, call 210-458-4160.