UTSA engineers offer business-boosting expertise with advanced manufacturing center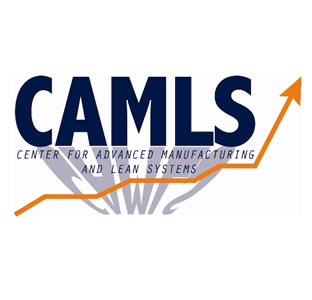 Share this Story
(Oct. 25, 2011) -- Each year, Pleasanton-based W W Wood manufactures and ships nearly 40 million pounds of all-natural, aromatic cooking wood products to retailers internationally. Despite the challenging economy, its business has grown. And that growth has brought forth new challenges.
In 2009, W W Wood contacted the UTSA Center for Advanced Manufacturing and Lean Systems (CAMLS) for its technical expertise. The center, housed in the UTSA College of Engineering, partners with manufacturers around the world to improve production and solve other unique challenges brought on by changing market demands.
W W Wood President Jerry Lawson believes his company and CAMLS are a great fit. The pair has been working together for almost two years.
"Our industry is unique," said Lawson. "We can't buy a lot of equipment off the shelf, so we have to design and build it ourselves. We used to go through a lot of trial and error in the design of new processing lines and equipment. With the help of the technical experts from UTSA's Center for Advanced Manufacturing and Lean Systems, we are better able to look at a project before we go out and build something. With the center's help, we have significantly less trial and error, and we get to the end product faster and at much less expense."
With the help of CAMLS, W W Wood developed a significantly larger and more efficient processing line for the manufacturer's mini-log products.
With CAMLS just a phone call away, W W Wood also tapped UTSA researchers to help it estimate its Green House Gases inventory and subsequently reduce its carbon footprint. For instance, when Lawson learned that local manufacturers were putting more than 450 truckloads of scrap sawdust into local landfills each year, he worked to convert his company's drying system, which now uses sawdust instead of propane and has the advantage of not contributing to the company's carbon footprint. Likewise, W W Wood used to dispose of 500 truckloads of waste each year. It now converts that waste into mulch products that are produced and sold locally.
CAMLS also has become a trusted advisor for San Antonio-based Harland Clarke, an integrated payment solutions company. "Our membership in the center has given us the opportunity to work on company-specific initiatives which are very important to us," said Luis Sanchez, vice president of engineering at Harland Clarke.
When Harland Clarke first partnered with UTSA, it sought to automate some of its manufacturing processes with robotics. CAMLS helped it build models for the improvements. Harland Clarke is now working with CAMLS' vast network of partners to bring the concepts to fruition.
"UTSA's Center for Advanced Manufacturing and Lean Systems has worked with a broad array of integrators and suppliers that can take its concepts and develop them," said Sanchez. "And those partners are vetted. As a CAMLS member, we have access to those partners and to their partners and so on. It's an ongoing network of vetted expertise."
The UTSA Center for Advanced Manufacturing was established in 2007 to serve manufacturers in the United States and abroad. The center offers a variety of membership levels to meet manufacturers' unique needs and specializes in research and development, expertise and training in lean manufacturing and six-sigma, supply chain and logistics engineering, warehouse systems, automatic technologies, advanced sensors and robotics.
Learn more at the UTSA Center for Advanced Manufacturing and Lean Systems website or contact Frank Chen, center director, at 210-458-5382.
------------------------------
About W.W. Wood
Based in Pleasanton, Texas, W W Wood Inc. was founded in 1986. The company is the leading producer of all-natural cooking wood products used for all types of barbecue grilling and smoking. The company produces and markets a complete range of products including Smoking Chips, Cooking Chunks, Mini-Logs and Fire Starters. The company is the exclusive worldwide distributor of Jack Daniels Barrel Chips, Jack Daniels barbecue aprons and the new Jack Daniels BBQ Tool Set. W W Wood products are sold worldwide and in more than 30,000 retail stores in the United States.
About Harland Clarke Corp
Harland Clarke Corp. is a leading provider of best-in-class integrated payment solutions, marketing services and security solutions. It serves clients in multiple industries including financial services, retail, health care, insurance and telecommunications; and ranging in size from major corporate brands and trade groups to micro-businesses and individual consumers. Within its payment solutions business, Harland Clarke provides needed products and services to nearly 11,000 banks, credit unions and major investment firms. The Harland Clarke Marketing Services portfolio is expansive with a dozen solutions designed to address the needs of banks and credit unions and their account holders through life cycle management.
Harland Clarke delivers integrated marketing campaigns focused on acquisition, onboarding, engagement, retention, and cross-selling, utilizing extensive print, phone and email channels for campaign execution. Headquartered in San Antonio, Texas, Harland Clarke employs more than 4,500 people nationwide and operates manufacturing and contact center facilities in multiple states and communities. Harland Clarke is an indirect wholly owned subsidiary of Harland Clarke Holdings Corp., which also owns Harland Financial Solutions and Scantron.