UTSA College of Business named one of top M.B.A. programs for minorities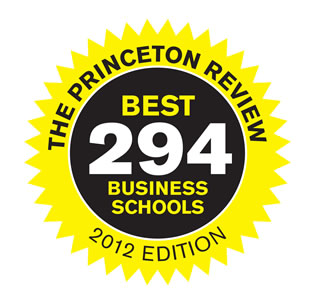 Share this Story
(Oct. 26, 2011) -- The UTSA College of Business was ranked the No. 3 M.B.A. program in the nation providing the "Greatest Opportunity for Minority Students" according to the 2012 edition of the Princeton Review's "The Best 294 Business Schools." This is the seventh consecutive year that the College of Business has been ranked in this category.
The UTSA College of Business shared the spotlight with such schools as Emory University, Florida International University, Fordham University, Howard University, Thunderbird and University of Massachusetts.
"We are honored to be recognized by the Princeton Review for the seventh straight year," said Lynda de la Vina, dean of the UTSA College of Business. "This ranking speaks to the quality of our academic programming and the services that we provide minority students. Our M.B.A. program is leading the nation with more than 30 percent of our graduate student body and half of our graduate faculty being minorities."
The Princeton Review conducted surveys with more than 19,000 business students at the best AACSB-accredited M.B.A. programs in the world. Business schools were judged based on institutional data such as percentage of minority students and percentage of minority faculty as well as based on student surveys assessing resources for minority students, culture of institution and diversity of student body.
Most recently the college was named the No. 3 graduate business school in the nation for Hispanics by Hispanic Business and is ranked No. 4 in the Southwest and No. 28 in the nation by Bloomberg BusinessWeek for its part-time M.B.A. program.
The UTSA College of Business offers a flexible M.B.A. program where students can attend part time, full time and during the evening. Eleven M.B.A. concentrations are offered in addition to specialized programs such as the one-year M.B.A. international degree program. The college's M.B.A. program has 240 students -- 30 percent minority, 30 percent female and 21 percent Hispanic.
The UTSA College of Business offers a comprehensive business curriculum at the undergraduate, graduate and doctoral levels. Nationally ranked and recognized, the UTSA College of Business is accredited by AACSB International, The Association to Advance Collegiate Schools of Business. It is one of the 40 largest business schools in the nation with 6,000 enrolled students and 47 different graduate and undergraduate business programs.