UTSA English professor Debbie Lopez dies Oct. 14 after extended illness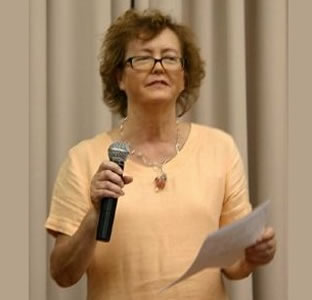 Share this Story
(Oct. 17, 2011) -- Debbie Lopez, UTSA associate professor of English, died Friday, Oct. 14, after an extended illness. She was a faculty member in the UTSA Department of English since 1993 and was on medical leave for the fall 2011 semester.
Originally from Chicago, Ill., she received her bachelor's degree from University of the South, two master's degrees from Middlebury College (Bread Loaf School of English) and Harvard University and a doctorate from Harvard University, where her dissertation, directed by the distinguished scholar Sacvan Bercovitch, received the Howard Mumford Jones Prize.
In 2008-2009, Lopez was a Visiting Fulbright Scholar at Aristotle University, Thessaloniki, Greece, where she taught American literature courses in romanticism and realism. Previously, she served as master's graduate adviser of record and worked tirelessly advising and mentoring students, particularly on their programs of study and the comprehensive examination required for the English M. A. degree. Her dual specialty focused on British and American 19th century literatures including canonical authors such as Keats, Melville, Hawthorne and Twain.
She was one of the first in the department to teach courses in African American and Native American literatures. While she is remembered mostly for her work with graduates and undergraduates, Lopez also was working on a long-term project, "Taking the Fall: Lilith and Lamia in the New World Eden."
"We have lost one of the most admired teachers and mentors," said Bridget Drinka, associate professor and chair of the Department of English. "Debbie Lopez changed the lives of so many of our students -- inspiring them with her deep knowledge of American and British literatures, guiding them as they planned their own careers, sharing her love for literature and the humanities with all who came to work with her. She will be profoundly missed."
"Debbie Lopez was a respected colleague and a dedicated scholar," said Daniel Gelo, dean of the UTSA College of Liberal and Fine Arts. "During her 18 years at UTSA, Debbie collaborated with several of us on significant conferences and publications, and she inspired many students along the way. She will be sorely missed."
Mark Allen, professor of English and also a master's adviser, remembered: "One of Debbie's (many) outstanding characteristics as a teacher is the care she offered to her students and the way they reciprocated. I know of few faculty members whose students so clearly cared about them. She had a wry sense of humor -- even wicked at times -- but a deep-seated gentleness pervaded her character."
"She had an extremely fine mind. She was always ready for a new research project or for a long conversation in the hallway about Hawthorne or Melville," said Jeanne Reesman, professor of English, colleague, friend and co-author. "Every time I spoke with her, I learned something new."
Long-time friend from graduate school and co-author, Maria deGuzman, remembers, "She was a big-hearted person -- a person with enormous warmth and charm, grace and compassion in addition to possessing a vast intellect and exuberance for learning, teaching and sharing her research and scholarship with her colleagues and students."
Because Lopez gave freely of her time and energies -- whether in independent studies, directed readings or review sessions for the M.A. exams -- she also is grieved by her students, both graduates and undergraduates.
"She was kind, patient and genuinely interested in helping me grow as a writer and researcher. Every conversation with her was as enjoyable as it was conducive to my personal growth," said one student.
Another student describes her gracious generosity: "She always took the time to help me or answer my questions. She was an inspiration. I will miss her very much." Many students believe that without Lopez's guidance, they would not have completed their master's programs.
In addition to her love for cats, Lopez will be remembered for the trips she planned to explore blues music including visiting historic venues where blues was born. She is survived by her husband, John Tucker, and her sister, Dawn Luyster, of Fort Worth, Texas.
------------------------------
>> There will be a memorial service, open to friends, colleagues and students, at 7 p.m., Tuesday, Oct. 18 at Vaughan's Funeral Home, 319 E. San Antonio Ave., Boerne. In lieu of flowers, contributions can be made to the Debbie Lopez Memorial Scholarship Fund, established for M.A. students in honor of her memory.