UTSA dean writes book on Great Plains Indians including real-life experiences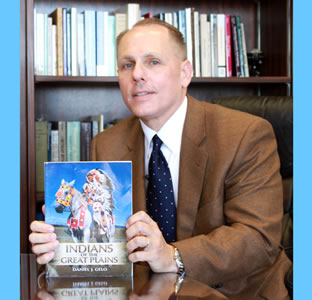 Share this Story
(Oct. 24, 2011) -- Daniel J. Gelo, professor of anthropology and dean of the UTSA College of Liberal and Fine Arts, has written a new book, "Indians of the Great Plains," and hopes the work will serve as a progressive and contemporary text that teachers across the country can adopt in their classrooms.
The textbook, published by Pearson Publishing, incorporates Gelo's real-life experiences studying the Indians of the Great Plains for more than 20 years.
Over the years, Gelo has spent summers visiting Native communities and living in Comanche Indian households, studying lifestyles, language, music and belief systems. One elderly Comanche woman even adopted Gelo as one of her grandsons, providing him with more insight into Comanche life and family obligations.
Gelo began teaching a course on Indians of the Great Plains after he was hired at UTSA in 1988, utilizing a standard textbook and supplementing the course with his own personal research.
In 2002, he presented to Pearson Publishing his idea of writing a textbook based on his lectures and received support from the company as well as his peers in the academic community.
"One of the big lessons I wanted to get across in this book is that these cultures have not vanished, they are very much alive and they are very much among us in this country," said Gelo.
Unlike previous books that have detailed Indian life up to the establishment of reservations, Gelo's book provides an updated retrospective covering Indian voting rights, military service and innovations in casino gambling operations on reservations. He also reflects on how tribes are preserving their languages and teaching their children to pass on knowledge to future generations.
"This book came from my personal experiences and growth at UTSA as both a teacher and a researcher," said Gelo."It's nice that even though I work in the dean's office, I still have opportunities to do research and stay involved intellectually."
In the age of digital communication, Pearson already has formatted the textbook in electronic form so instructors can use it and find it on Kindle. Instructors can find various chapters to incorporate into their classes