Scholars, professionals from nine countries discuss health policy at UTSA global forum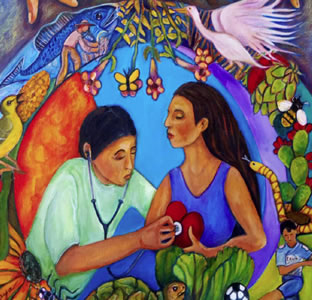 Share this Story
(Oct. 3, 2011) -- The UTSA Mexico Center in partnership with the UTSA South Texas Center for Emerging Infectious Diseases and the Mexican Consulate Office in San Antonio will host scholars and health professionals from nine countries including the United States and Mexico at the 11th annual Binational Policy Forum on Migration and Global Health, Oct. 3-4 at the UTSA Downtown Campus, 501 W. Cesar Chavez Blvd.
The international forum was organized by the Mexico Ministry of Health, Mexico's Institute for Mexicans Abroad and the UC Berkeley Health Initiative of the Americas.
The public policy forum kicks off Binational Health Week with participants from academia, government and the community seeking to improve the health and quality of life of migrant Mexicans and Latin Americans living in the United States and Canada.
On Oct. 4, forum participants will address policy issues related to chronic diseases, infectious diseases, women's health, mental health and group access to health-care services.
Established in October 2005, the UTSA Mexico Center is the umbrella organization that connects the university's Mexico-related experts and is continually engaged in research and educational projects to promote greater knowledge and understanding of issues facing Latino immigrants from Mexico.
The center is a member of the Inter-University Program for Latino Research (IUPLR), a national group of university-based centers focused on the promotion of Latino scholarship within the United States. Through IUPLR, UTSA's scholars network and conduct collaborative, policy-relevant research to mitigate the challenges facing the nation's growing Latino population.
In 2010, the U.S. Census Bureau reported 50.5 million Hispanics living in the United States, representing approximately 16 percent of the nation's population. In 2010, an estimated 9.6 million U.S. immigrants were born in Mexico. In Texas, Hispanics make up 38 percent of the population, according to the 2010 Census.
------------------------------
>> View the full conference schedule at the Binational Health Week website.
Forum highlights, Tuesday, Oct. 4
9 a.m.: Opening ceremony
10:15-11:15 a.m.: Keynote addresses by Steve Waterman, M.D., M.P.H., medical epidemiologist at the Centers for Disease Control and Prevention Quarantine and Border Health Services, San Diego, and Mauricio Hernandez Avila, undersecretary for preventation and health promotion, Mexico Ministry of Health
11:30 a.m.-1 p.m. and 3-6 p.m.: Working sessions