Artist JEFRE will discuss his approach to public art and San Antonio project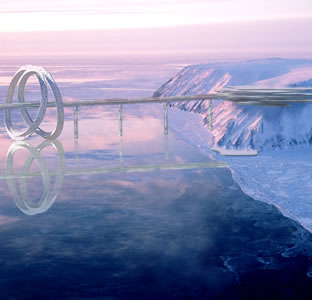 Share this Story
(Oct. 24, 2011) -- In partnership with Public Art San Antonio, the UTSA College of Architecture will present "heART in the Landscape," a free, public lecture by world-renowned public artist JEFRE, who recently was selected from a national call for artists to design and install public art at the City of San Antonio Public Safety Headquarters.
>> Free and open to the public, the lecture is 5:30 p.m., Wednesday, Oct. 26 in the Buena Vista Street Building Aula Canaria (1.328) on the UTSA Downtown Campus.
JEFRE will discuss his perspective as a working public artist and the motivation behind his work. He will talk about past projects and his approach to working on the Public Safety Headquarters in San Antonio. The project will create much-improved facilities for the City of San Antonio's police and fire departments providing joint operations and common spaces. The building is across from the UTSA Downtown Campus between Santa Rosa and Urban Loop, and Nueva and W. Cesar E. Chavez Boulevard. The building is projected to open in late summer 2012.
JEFRE has spent a considerable amount of time in his recent public art career working on projects in the field of public safety. Utilizing his degrees in landscape architecture and fine arts, he has worked on public art projects in London, Rome, Miami, New Orleans, Philadelphia, Australia, Abu Dhabi and Iceland, among other locations. His design solutions originate from fully understanding historical, environmental, social and contextual relationships influencing the site and the architecture.
"San Antonio has become a destination for projects and for opportunities in a way that it never was before," said Jimmy LeFlore, public art manager at Public Art San Antonio. "Having an artist, especially one with a degree in architecture and fine art like JEFRE, look at our city to create something that will promote greater appreciation is something that we [at PASA] are aspiring to do. The civic spaces that make up our city are only increased in value when we look at them through an artistic lens."
"This lecture provides the general public with a reminder as to why art and architecture have always been and should continue to be so closely aligned with the pursuit of effective development of the built environment," said John Murphy, dean of the UTSA College of Architecture.
For more information about the lecture series, email Nicole Chavez.
------------------------------
UTSA College of Architecture Fall Lecture Series
Nov. 16 -- Mario Coyula Cowley, Cuban architect and architectural historian
Nov. 30 -- Erhard An-He Kinzelbach, architect and founder of KNOWSPACE architecture + cities, with projects in Europe and China; professor at China Academy of Art