UTSA engineering students host Oct. 22 Monster Mash Pumpkin Smash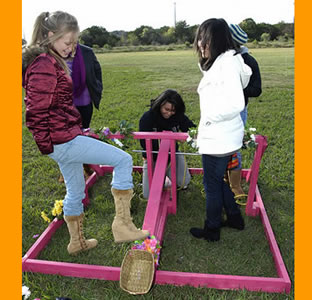 Share this Story
(Oct. 20, 2011) -- The UTSA College of Engineering and the College of Engineering Student Council (COESC) will host the third annual Monster Mash Pumpkin Smash at 3 p.m., Saturday, Oct. 22 at the East Campus Drive parking lot on the UTSA Main Campus. Witness the marvels of engineered machines flinging pumpkins through the sky, along with booths and activities.
You don't have to be an engineer to join in the festivities; the event is free and open to the public. The special event will include a costume contest for best-dressed individual, couple and group.
Spectators can see classic weapons of destruction such as the traditional trebuchet and ballista, along with demonstrations of how modern engineers adapt the trebuchet to create a more efficient weapon for pumpkin-smashing mayhem.
This year, eight teams will compete to see who catapults a pumpkin the farthest with a single shot, who has the longest distance after three shots and who has the best-looking catapult.
The COESC is a nonprofit organization dedicated to uniting and advancing collaboration between UTSA engineering students and society. To that end, the council provides guidance to College of Engineering students to increase their participation in UTSA campus life, activities and events.
COESC puts on the Pumpkin Smash to promote engineering within the community as well as to allow other students to see that engineering goes beyond just math and science. It also lets the engineering students apply what they have learned in the classroom in a real-world situation.
>> To access the UTSA Main Campus, exit Interstate 10 at UTSA Boulevard. Go west on UTSA Boulevard, turn right at the first light on Valero Way and the East Campus Drive lot is approximately 300 feet on the left, across from Valero Energy.