UTSA Reading Place offers high-quality, low-cost literacy tutoring for children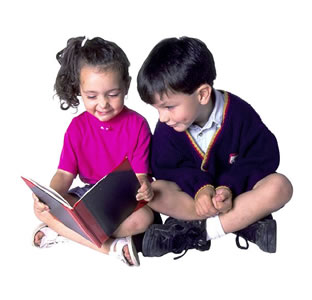 Share this Story
(Oct. 12, 2011) -- An inviting and colorful reading resource center is on the third floor of the Buena Vista Street Building at the UTSA Downtown Campus. The Reading Place, or Plaza de Lectura, as it is more commonly known to the families it serves, is perhaps one of San Antonio's best-kept secrets.
"For a nominal fee of just $25, local children can receive up to 10 weeks of one-on-one reading and writing tutoring through our Roadrunner Readers program," said Teresa Sellers, UTSA Reading Place director. "The program has historically proven to be a win-win. Local students get the customized attention they need to advance their reading and writing skills, and UTSA students seeking teaching certification get a chance to put the teaching techniques they have learned into practice."
Since its founding in 1999, the Reading Place has provided reading and writing support for more than 1,500 San Antonio children. Each semester, the center accepts new children ages four years through grade six into its tutoring program. At the start of the semester, qualified UTSA students assess the children in literacy and writing. Following the assessments, the children receive one-on-one instruction tailored to their needs for one hour each week under the direction of UTSA faculty. At the close of the program, parents receive progress reports from their child's tutor.
To support its unique tutoring program, Plaza de Lectura features a collection of leveled readers for pre-school through ninth grade reading levels. The collection includes fiction, nonfiction, Spanish books, bilingual books and big books, along with literacy games, alphabet boards, dry-erase boards, puppets and other literacy tools. The facility also houses computers to help readers develop their reading skills.
The Reading Place is open for walk-in use by UTSA students enrolled in teacher certification courses, UTSA faculty and the families of the center's Roadrunner Readers. Hours are:
Monday, 1-6:30 p.m.
Tuesday, 9:30-11:30 a.m.
Wednesday, 9:30 a.m.-12:30 p.m.
Thursday, 11 a.m.-3:30 p.m.
Friday, 9:30 a.m.-3 p.m.
Tutoring sessions require advance registration and are full for the fall semester. Spring semester applications will be available toward the end of the calendar year at the UTSA Department of Interdisciplinary Learning and Teaching website. For more information, call 210-458-2649.