UTSA's Rita Linard to present flute recital Sunday, Oct. 16 in Recital Hall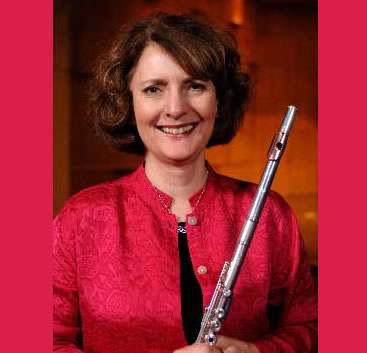 (Oct. 13, 2011) -- Rita Linard, UTSA associate professor of music, will present a flute recital, "A Celebration of Life" at 7:30 p.m., Sunday, Oct. 16 in the Arts Building Recital Hall on the UTSA Main Campus. As part of Breast Cancer Awareness Month, the event is free and open to the public.
A recent cancer patient, Linard will be accompanied by musicians who are cancer survivors or cancer patient advocates. Accompanists will be harpist Laurie Buchanan and guitarist Leslie Lyon.
Linard coordinates the UTSA wind and percussion program and teaches flute, aural skills and flute ensemble.
In addition to frequent solo-recital and chamber music appearances with the Linard-Buchanan Flute and Harp Duo, the King William Winds, the Nova Flute and Guitar Duo and the Sonora Flutes, she is principal flute in the Mid-Texas Symphony and frequently plays with the San Antonio Symphony and Austin Lyric Opera.
In the summer months, Linard teaches and performs at Blue Lake Fine Arts Camp with numerous performances broadcast on Michigan Public Radio and National Public Radio. She also directs the UTSA Flute Camp for area high school and middle school students, giving them the opportunity to perform in both master classes and flute choir.
Linard received her doctoral degree from the University of Texas in Austin and attended Indiana University, University of Illinois and Northern Illinois University.
For more information, contact Rita Linard at 210-458-5684.