UTSA student group The Movement and Nike partner for tennis shoe drive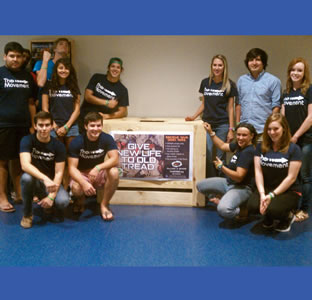 Share this Story
(Oct. 6, 2011) -- The Movement, a UTSA student organization, has partnered with Nike to promote sustainability and recycling of old tennis shoes. Movement member Michael Adames created the plan and worked diligently to secure the partnership with Nike.
The Movement and Nike hope to collect 500 used, unwanted athletic shoes to support a Nike recycling program. The shoes will be taken apart and re-used to create new surfaces for sport courts around the nation. Adames also work with the UTSA Recreation Center to set up shoe collection bins at the facility.
Campus Rec and The Movement also will collect shoes at the fourth annual Rowdy Rec 5K Run on Oct. 23. UTSA community members are encouraged to register for the race and bring their old athletic shoes to recycle. The Movement will collect the shoes until late November.
For more information and to get involved in this and other initiatives, visit The Movement website or email TheMVMNT@hotmail.com.
Visit The Movement on
Facebook
.