UTSA Student Leadership Center hosts storytelling luncheon on women in leadership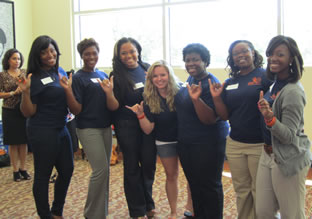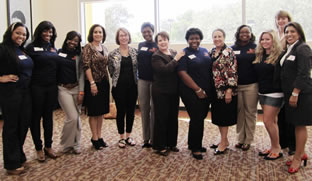 Share this Story
(Oct. 31, 2011) -- With the theme "Women in Leadership," the Storytelling Series Luncheon this semester featured women business leaders and UTSA administrators. Hosted each semester by the UTSA Student Leadership Center, the luncheon brings together students, faculty and staff in a casual atmosphere in which they can share leadership ideas, experiences and challenges. The luncheon included students who attended the LeaderShape institute in May and who suggested the theme for this event.
Besides presentations by the business leaders, discussion topics included double standards for men and women in leadership, women's leadership skills, why women are not represented enough in leadership and how women can support each other in leadership.
Participants included a mix of students and administrators from all levels of leadership. Guests from the San Antonio business community included:
Jelynne Burley, executive vice president and chief administrative officer, CPS Energy
Nora Silva, senior director, American Heart Association
Aaronetta Pierce, president, Premier Artwork Inc.
Julie Burgett, vice president of research and development and CEO, Kinetic Concepts Inc.
Kathleen Acock, president, Alpha Building Corp.
Janice Meyr, president, B&R Supply and Equipment Co.
At the luncheon, UTSA administrators sharing leadership stories including:
Gage Paine, vice president for student affairs
Marjie French, vice president for university advancement
Zwisel Gandia, complex coordinator of housing and residence life
Susan Colorado, director of learning communities
Melissa Thomas, assistant director of learning assistance and assessment
Laura Munroe, director of campus recreation
Pesha Mabrie, complex coordinator of housing and residence life
Among 30 UTSA students attending, seven facilitated table discussions on leadership styles including Dez Stansberry, Krystal Nicholson, Tenille Jones, Trishauna Hopkins, Meg Tompkins, LaKendria Ellis and Quachae Thomas.
The Storytelling Series Luncheon is presented once each semester. "Men in leadership" is the theme for next semester's luncheon. For more information on this and other programs, visit the UTSA Student Leadership Center website or go to University Center Suite 1.001 on the Main Campus.