UTSA Hillel hosts Chanukah party Wednesday, Nov. 30 at Main Campus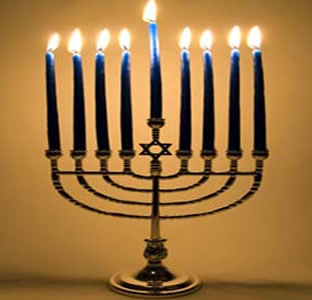 Share this Story
(Nov. 29, 2011) -- Hillel at UTSA, a Jewish student, staff and faculty organization, will host "Gambling for Gelt: The Hillel at UTSA Chanukah Party" from 7 to 10 p.m., Wednesday, Nov. 30 in the Business Building University Room (2.06.04) on the Main Campus.
Free and open to the public (including children), the event will have a casino night theme to celebrate the "gelt" (or chocolate coins) that traditionally are given by parents and grandparents to children on the nights of Chanukah.
There will be a DJ and a guitarist with Chanukah and other styles of music. The casino night theme will include gambling with traditional chocolate coins. As in previous years, there will be a buffet with traditional Chanukah foods including potato latkes, safganiot (doughnuts) and dessert delicacies. There also will be multiple door prizes.
The event will feature lighting of a Chanukah menorah, discussion of the significance of the holiday and historical and contemporary differences between Chanukah and other festivals such as Christmas.
On each night of Chanukah, an additional candle is lighted on the menorah to commemorate a miracle, which occurred after the Jewish people proclaimed victory over the Syrian armies in 165 B.C.E. When Jews (the Maccabbees) rededicated the temple that had been defiled by the Syrians, they found only one small flask of oil with which to light the menorah, a candelabrum. The flask contained enough oil for only one day, yet the oil burned for eight days, which was a miracle.
Hillel is in its 25th year at UTSA. This year's president is English major Joseph Markowitz. The faculty adviser and Hillel director is Rosalind Horowitz, professor of discourse and literacy studies in the UTSA College of Education and Human Development.
For more information, email prs449@my.utsa.edu.