UTSA hosts Nov. 21 concert by jazz duo Houston Person and Larry Ham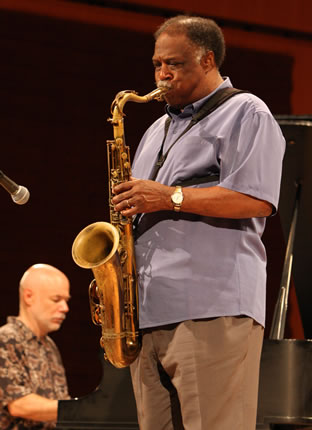 Share this Story
(Nov. 17, 2011) -- The UTSA Department of Music and KRTU 91.7 FM will present jazz greats Houston Person and Larry Ham for a concert performance at 7:30 p.m., Monday, Nov. 21 in the Arts Building Recital Hall on the UTSA Main Campus. Part of the music department's Guest Artist Series, the legendary jazz duo will be joined onstage by UTSA music faculty member Utah Hamrick performing on bass.
A 77-year-old tenor saxophonist legendary in the jazz world, Person has recorded more than 50 records as a leader on several of the most important jazz labels including Prestige, Savoy, Mercury, Muse and Highnote. His musical collaborators include Lou Rawls, Lena Horne, Horace Silver, Ron Carter, Cedar Walton and Johnny Hammond, along with a 30-year musical relationship with singer Etta Jones.
Person has kept alive the "Boss Tenor" tradition and blended his leadership in the hard bop legacy with more contemporary jazz styles and infused his music with a powerful, soulful sound and a relaxed definitive sense of swing. In 1982, Person received the prestigious Eubie Blake Award and received acclaim for his recordings with Ron Carter and Etta Jones.
Pianist Larry Ham is a 30-year veteran of the New York jazz scene and has performed, toured and recorded with many great jazz artists. His professional career began in the late '80s with the Lionel Hampton Orchestra and continued in the early '90s with the Illinois Jacquet Big Band.
Ham has played in jazz nightclubs, concerts and festivals worldwide, performing with jazz legends in the United States, Europe, West Africa and Japan. Performances include the Grande Parade du Jazz in Nice (France), The Hague (Netherlands), Finland, India, Ottawa (Canada) and the Kennedy Center (Washington, D.C.).
His most recent appearances include Lincoln Center, Carnegie Hall and The Village Vanguard in New York. Ham has performed at the White House for President Reagan and President Clinton's 1992 inaugural ball. He appeared on "The Today Show" and was featured on NPR's "Jazz Set with Dee Dee Bridgewater."
Admission is $20, general admission, and $10, students, military and senior citizens. For more information, call Cynthia Solis at 210-458-5685 or visit the UTSA Department of Music website.